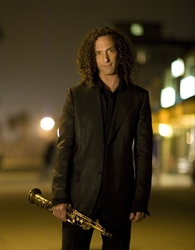 Everytime I Close My Eyes
Indiana (Vocus) August 5, 2009
Kenny G, the biggest-selling instrumental musician of all time and best-selling jazz musician of the modern era, will bring his soulful sounds to French Lick Resort for one very special show Saturday, August 22 at 8 p.m. Tickets are priced from $29 to $89 and are available at http://www.frenchlick.com or by calling Ticketforce at 877-840-0457.
Special hotel packages, including a pair of tickets for the show, are being offered at both the is French Lick Springs Hotel (starting at $319) and the is West Baden Springs Hotel (starting at $369). Guests can book them online, or by calling our reservation specialists at 888-936-9360.
About Kenny G:
After years of playing professionally with groups like Barry White's Love Unlimited Orchestra and Jeff Lorber Fusion, Kenny signed with Arista Records in 1982 and released three critically-acclaimed jazz albums: Kenny G, G-Force and Gravity.
Kenny G's big moment came in 1988 on The Tonight Show with Johnny Carson. One of the producers insisted that, for such a big appearance, the artist should perform a track accompanied by a vocalist. Kenny felt it was important in this moment to establish himself with an instrumental. The debate continued up until minutes before show time when Kenny launched into "Songbird," the landmark recording from his fourth album, Duotones. That night he played his heart out and a star was born.
From there, Kenny went on to become a multi-platinum sensation soon collaborating with the likes of Aretha Franklin, Whitney Houston, Natalie Cole and Frank Sinatra. His next studio albums, Silhouette and Breathless were enormously successful, the latter becoming the biggest selling instrumental record in U.S. history with more than 12 million records sold in the U.S. alone. The album featured the Grammy® award winning single, "Forever in Love." Kenny soon attracted an impressive array of collaborators. In 1996, Kenny teamed with renowned artist/producer Babyface for "The Moment" which featured two vocal collaborations including "Everytime I Close My Eyes" and "That Somebody Was You" with Toni Braxton.
In 1994, Kenny broke another record with his holiday compilation, Miracles, which, in addition to being Kenny' first album to hit number #1 on the Billboard Top 200 chart, became the best selling holiday album of all-time. Thirteen years later, it still stands as the best-selling holiday album.
In 2004, Kenny delivered an all-guest-star album entitled At Last...The Duets Album. The album featured performances by Barbara Streisand, Burt Bacharach, LeAnn Rimes as well as a remake of OutKast's "The Way You Move" with Earth, Wind and Fire.
Other notable works include: 1999's album of Jazz standards entitled Classics in the Key of G, (which featured "What a Wonderful World," the virtual duet with Louis Armstrong and "The Girl From Ipanema" duet with Bebel Gilberto) and 2006's I'm in the Mood for Love: The Most Romantic Melodies of All Time. The saxophonist's unique take on some of the greatest love songs ever written include standards such as Dorothy Fields' "The Way You Look Tonight," right up through modern hits such as Alicia Keys' "I Ain't Got You," and James Blunt's "You're Beautiful."
French Lick Resort is a $500 million historic restoration and casino development project that includes the West Baden Springs Hotel, French Lick Springs Hotel and the new French Lick Casino. This premier resort and casino destination in Southern Indiana features 689 guest rooms and suites; a 42,000-square-foot, single-level casino; 45 holes of golf, including the fully restored 1917-designed Donald Ross Course at French Lick and the new, 18-hole Pete Dye Course at French Lick two full-service spas with a combined 36 treatment rooms totaling 42,000 square feet; meeting and event space totaling 115,000 square feet and an array of dining and entertainment options.
Media Contacts:
Dyan Welsh
Public Relations Manager
French Lick Resort
812-936-5926
Tessa Higgs
Public Relations Coordinator
French Lick Resort
812-936-5861
###