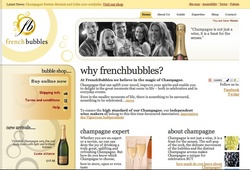 Great Champagne can lift your mood, improve your spirits and enable you to delight in the great moments that occur in life - both in celebration and in everyday events. Even in the smaller moments of life, especially now in this difficult economic environment, there is still something to be savoured or celebrated
London (PRWeb UK) April 19, 2009
FrenchBubbles is proud to announce the launch of its new website, http://www.FrenchBubbles.co.uk, offering exceptional quality French Champagnes at very affordable prices. FrenchBubbles' founders believe in the magic of Champagne. What makes the company special is that each bottle that FrenchBubbles offers has its own unique characteristics and personality as they are produced with assured quality, using traditional manufacturing methods rather than mass produced on a large scale.
"When I moved to London five years ago, I realized that in the UK the perception of champagne was quite different from my native country, that only the most expensive and famous brands were available in the shops. That's why I have decided to create Frenchbubbles, to take the real champagne here in this country. Our Champagnes are reliably sourced from a wide range of established family-run vineyards, all of whom produce high quality hand crafted Champagnes and all belong to the Association des Vignerons Indépendants. Our independent producers make Champagne with passion and exuberance, and the proof is in the tasting," asserts Maud Fierobe of FrenchBubbles.
All FrenchBubbles' Champagnes have received glowing reviews in trade magazines such 'Le Guide Hachette' as well as several which have received medals and awards. Champagne makers are often referred to as artists, creating their own 'assemblages' from a combination of Chardonnay, Pinot Noir and Pinot Meunier grapes. Each perfects its own distinct flavour, personality and characteristics, indeed drinkable works of art. FrenchBubbles proudly offers a selection of these unique Champagnes, which can not be found in local supermarkets.
The website also offers many additional resources. A guide helps customers read and interpret the labels. Plus, there are tips on:

Storing - best practices on preserving Champagne
Chilling - what temperature is ideal
Opening - how not to waste a drop
Serving - suggestions for the perfect shaped glass
Tasting - techniques from professionals
Pairing with Foods - matching the right variety with the right dishes
Sparkle - the Champenois' genius in learning to control this natural phenomenon in order to achieve extremely fine bubbles and long lasting aromas
"Great Champagne can lift your mood, improve your spirits and enable you to delight in the great moments that occur in life - both in celebration and in everyday events. Even in the smaller moments of life, especially now in this difficult economic environment, there is still something to be savoured or celebrated," says Maud Fierobe.
Each year, FrenchBubbles searches, and then selects the best affordable, independently produced Champagnes for UK consumers. They are perfect for any occasion, whether it would be for corporate events, weddings, small gatherings or a simple aperitif. To learn more, please visit http://www.FrenchBubbles.co.uk.
Media Contact:
Maud Fierobe
maud.fierobe(at)frenchbubbles.co.uk
+44-2032-397752
###