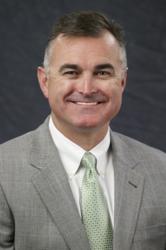 "With Mike Stanfill at the helm, I could not be more confident about the future direction of French Gerleman," said William B. French, CEO.
St. Louis, MO (PRWEB) August 03, 2012
French Gerleman announces the appointment of Mike Stanfill to President. Stanfill, previously Vice President of Industrial and Commercial Sales, brings more than 24 years of experience in engineering, management and executive positions in manufacturing and wholesale distribution. He takes over for William B. French who will assume the role of Chief Executive Officer.
Much of Stanfill's focus will be achieving company growth and profitability goals through both organic sales and new product segments, including safety, power transmission and clean energy. He will also be responsible for vendor relations.
"I am fortunate to undertake the role at this time in French Gerleman's history. We are a financially solid, fifth generation, family owned company with an experienced management team," said Stanfill. "I remain committed to the mission and vision the French family has established their business upon, and I look forward to building on the successes our employees have achieved."
As CEO, French will continue to be a key part of the company's leadership overseeing the company culture and key strategic directions. This will also allow French more time for community service and time with family.
"With Mike Stanfill at the helm, I could not be more confident about the future direction of French Gerleman and its ability to address the needs of our industrial, commercial and construction customers," said French. "Mike brings years of successful sales and marketing experience, and his leadership will greatly enhance our efforts to continue to profitably grow our businesses."
Stanfill earned a B.S. degree in mechanical engineering from the University of Illinois. Prior to being named President, he held a variety of positions in his 18 year tenure at French Gerleman including product management, Tech Center management, and two divisional sales Vice President roles. Prior to French Gerleman, Stanfill worked in engineering, R&D and product management at Unilever and Everest & Jennings. He currently serves as a member of Rockwell Automation's Horizontal Distributor Advisory Council, is a past director on the Electrical Board of Missouri and Illinois and has served on advisory councils for other electrical manufacturers. Stanfill is also active in the community, currently serving on the Westminster Christian Academy Board of Directors and as a Ruling Elder at Kirk of the Hills Presbyterian Church. He has previously served on Ranken Technical College's Electrical Automation Technology Advisory Board and as a former Board President at Kirk Day School.
French earned a B.S. degree in business administration from the University of Missouri, Columbia, and began his career with French Gerleman in 1975. He started on the inside sales team and held various operations management positions before being named a Vice President in 1982. In 1988 French was promoted to the position of President when his father, James W. French, was named CEO. He has served in numerous capacities in the industry as a member of Distributor Advisory Councils, the US Bank Advisory Board, Network Chairman and committee member with Affiliated Distributors, and is a founding member of the Vanguard Distribution Group and Vanguard National Alliance. French serves his church, Kirk of the Hills Presbyterian, as a Ruling Elder and Ministry Team Chairman. Likewise, he serves the Christian community as Chairman of the Board of Trustees at Covenant Theological Seminary and is a past Board Member and past Board President of Westminster Christian Academy.
About French Gerleman
French Gerleman is a leading regional supplier of profit-boosting automation, datacom, electrical, power transmission and safety products and services to the industrial, commercial and construction markets. A fifth generation, family owned business based in St. Louis, MO, French Gerleman has locations in Quincy, IL; Kansas City, KS; Columbia, MO; and Washington, MO. For more information, visit http://www.frenchgerleman.com.