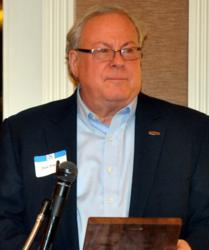 "Dan's leadership and success at French Oil and his extensive participation and contribution to a wide variety of civic activities made him an excellent candidate for Business Person of the Year."
Piqua, Ohio (PRWEB) January 21, 2013
Daniel P. French, Chairman and President of the French Oil Mill Machinery Company, was named Business Person of the Year by the Piqua Area Chamber of Commerce (PACC) during their 67th Annual Dinner at the Piqua Country Club on January 17, 2013. This award is given to a successful Piqua businessperson who is actively involved in the betterment and the enhancement of the City of Piqua and its business community. The award presenter, Mike Yannucci, explained, "Dan's leadership and success at French Oil and his extensive participation and contribution to a wide variety of civic activities made him an excellent candidate for Business Person of the Year."
Dan joined French Oil in 1971, first working in the factory as a machine tool operator and worked his way up in the company; he was promoted to President in 1982. Dan is the third generation of the French family to serve as President of the 112-year-old, family-owned, privately held company. Under his direction, French Oil has seen impressive sales growth in the last four years, at a time when much of the American economy and its manufacturing base have suffered. French Oil, its employees and the Piqua community have benefited by a recent surge in sales and exports, allowing the company to hire 43 new employees in three years.
Having grown up in Piqua, Dan is very passionate about the well being of the Piqua community. He is a Director of several civic and economic development organizations, including one of the founders and first Chair of Grow Piqua Now. In 2010, Dan organized and formed Positively Promoting Piqua (PPP), which is dedicated to helping Piqua grow and be a great place to live and work. As Chair of the PPP Steering Committee, Dan collaborated with the PACC to plan and host the Positive Piqua Leadership Conference for Non-Profits in October 2012. Dan is also a Director of the Upper Valley Medical Center, a Trustee of the Miami County YMCA, a Trustee of the Piqua Community Foundation, a Director of Piqua Improvement Corporation (PIC) and a member of various other local committees including the PACC Manufacturing Committee.
The French Oil Mill Machinery Company also received a Commercial Beautification Award for their recent exterior restoration project. In July 2012, French Oil embarked on a six-month, heavy-duty brick restoration cleaning and total repointing of the main building's facade to restore the 105-year-old structure to its original look while maintaining its natural integrity. The beautification project will also include 26 new windows on the main office building and Autumn Flowering Cherry Tree plantings along Greene Street and Washington Avenue.
The French Oil Mill Machinery Company custom designs, manufactures and supports ISO-certified hydraulic presses, screw presses and other process equipment for the molding, oilseed and synthetic rubber industries to customers in over 80 countries. French's 225,000 square foot worldwide headquarters and manufacturing facility are located in Piqua, Ohio.