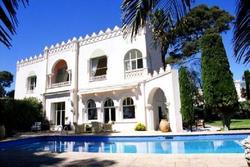 St. Raphael, France (PRWEB) April 26, 2010
Recent headlines warn fee-weary air travelers of new user charges imposed by certain airlines for blankets while aloft.
The French Riviera's La Villa Mauresque believes no one should put up with stingy extra fees for skimpy airline blankets and guests should always be swaddled in warmth and comfort – even before they arrive.
Vacationers at La Villa Mauresque, a 19th century Mediterranean seafront luxury hotel, will receive a sumptuous cashmere and wool blanket, shipped direct to their home doorstep before they depart, so they will never have to worry about keeping warm en route to one of the French Riviera's most splendid villa hotels.
The complimentary offer is available for guests booking a minimum stay of three nights, prepaying for one night in advance, for arrivals now through October, 2010. To allow time for blanket delivery, prepayment is required three weeks before arrival. Blankets solely shipped to US addresses.
In the charming village of Boulouris, between Cannes and St. Tropez, La Villa Mauresque features 17 luxurious bedrooms housed in two Moorish villas dating from 1860, most with stunning sea views, others with garden views. On a private seafront, the luxury boutique hotel offers luxury and serenity with an infinity pool and a seafront spa and Jacuzzi, lush garden, and private harbor with facilities for complimentary water activities: canoeing, kayaking, small catamaran, zodiac and snorkeling. Windsurfing and scuba diving are also offered, as well as a small 4cv motor boat for those without a sailing permit. Available for hire are a 97-foot private yacht for day cruises along the scenic French Riviera and a 17-foot motor boat.
Ideally located for exploring the French Riviera, otherwise known as the Côte d'Azur, La Villa Mauresque is 30 minutes from Cannes, 30 minutes by boat from St. Tropez, 50 minutes from Nice airport and one hour from the port of Monaco. For reservations, contact your travel agent, call +33 (0) 4 94 83 02 42, email contact(at)villa-mauresque(dot)com or visit the website http://www.hotelsfrench-riviera.com.
# # #