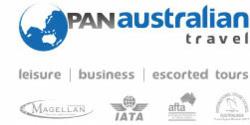 In creating PATraveller, we have identified the types of rewards from which the traveling public will truly benefit
(PRWEB) January 25, 2012
Innovative travel agent, Pan Australian Travel, has just announced the launch of its own frequent flyer program, PATraveller. The membership program sets the highly-regarded company apart in the competitive travel agency business, rewarding its clients with an impressive list of loyalty benefits.
The company designed their loyalty program based on over 50 years of experience with the traveling public.
"In creating PATraveller, we have identified the types of rewards from which the traveling public will truly benefit," said Pan Australian Travel Director, Jake Hower. "We are not offering kitchen appliances or supermarket vouchers - that's not what we're about."
Instead, Pan Australian Travel has negotiated specially reduced prices for, for instance, Priority Pass worldwide airport lounge membership. Depending on the level of membership, complimentary cabin luggage and airport transfers are offered.
Membership to PATraveller is free and is available to individuals or to the company's many corporate travel management clients. The Membership level is based on the member's annual travel spend with Pan Australian Travel, and is divided into Blue, Silver, Gold and Platinum levels.
All members will receive special offers that are negotiated with airlines, hotels, tour companies and cruise lines.
"As a long-established travel agent, we have always strived to provide our clients with the best possible service" said Mr Hower. "Now we are pleased to offer them more tangible benefits, to thank them for their loyalty to us."
Special PATraveller Launch Offer
In announcing the launch of PATraveller frequent flyer membership, the company is offering a limited-time offer for members.
"Any members making any booking whatsoever by March 31, 2012 will be upgraded to the next higher tier of membership" explained Mr Hower. "This offer is open to individuals departing Australia, leisure travelers or our corporate clients organizing a conference."
Believed to be the only independent loyalty program tailor-made by a travel agent, PATraveller is poised to set a new benchmark in a very competitive industry.
More details about the PATraveller frequent flyer membership can be found at http://www.panaustravel.com.au/patraveller-frequent-flyer/ 
About Pan Australian Travel
Pan Australian Travel has been helping business and leisure travelers for over 50 years. In an industry full of flash-in-the-pan businesses, this makes them one of Australia's most established travel agencies.
The company does not offer budget travel or mass-market package deals. Instead, it focuses on helping business travelers take the stress out of travel, and helping leisure travelers plan the luxury holiday or cruise of their dreams.
Pan Australian Travel's priority is great personal service and it now rewards client loyalty with its own PATraveller frequent flyer program.
For more information about Pan Australian Travel visit http://www.panaustravel.com.au
# # #