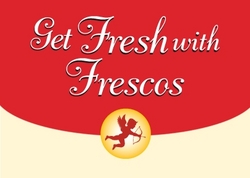 We were surprised at the range and creativity of endearment terms that people admit to calling their loved ones
Toronto, ON (PRWEB) February 11, 2009
In spite of this cold-hearted economy, most people are still warm-blooded romantics with a true sense of creative adventure in how they describe their loved ones in spoken words and writing. The findings are gleaned from the preliminary results of an extensive Valentine survey conducted by Frescos Fresh Food Market for website visitors willing to submit their favorite 'endearment term' for the chance to win a $100 Frescos gift card.
According to Frescos President and General Manager John Barth, many of the endearment terms posted by visitors haven't really changed from years ago, although certain terms like 'Buttercup' and 'Snookums', which were popular in the 60s and 70s, just aren't showing up in the latest survey.
"We were surprised at the range and creativity of endearment terms that people admit to calling their loved ones," said Barth. "Some of the entries received reflect intimate love expressions often heard in popular movies and TV shows. What's particularly interesting is the number of endearment terms offered that start with the letter 'S', such as Sweetie Pie, Snuggle Bunny, Sweetums and Schmoopy. In second place are terms that are either food-related such as Love Muffin and Sweet Pea or furry animal-based such as Poodle, Pooch Bear, and the ever-popular "Kitten."
Other favorite 'endearment' terms in the running for popularity include:

Love Dumpling
Trouble
Honey Bunny
Pookie
Pumpkin
Visitors can add their endearment term to the online survey until midnight February 14. The survey coincides with the "Get Fresh With Frescos" Valentine's Day promotion for Frescos, a Canadian chain of retail stores that provide fresh, ready-to-cook meals that can be cooked in as little as six to ten minutes. The draw winner, and complete survey results will be posted at the Frescos website during the week of February 16, 2009.
About Frescos Fresh Food Market
When you don't have the time to shop, clean, chop, slice, dice, season, or marinate in time to cook dinner, Frescos has the answer. Frescos produces more than 80 pre-packaged, chilled, ready-to-cook meals, from seductive stir-frys to enticing entrees and tantalizing salads. Frescos' meals are unique, fresh and complete, don't require defrosting and can be cooked in as little as six to nine minutes. All products are portion controlled, consistent with Canadian food guide standards and bear nutritional labels.
###