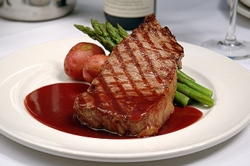 Being on the sixth floor provides a nice view of downtown and the surrounding areas
San Jose, CA (PRWEB) December 28, 2011
There are a lot of choices for fine dining and activities in San Jose on New Year's Eve, however only one can provide the best seafood and the most festive atmosphere with delicious wine and spirits served deep into the wee hours of 2012. That establishment is San Jose fresh seafood restaurant, Scott's Seafood.
Scott's Seafood is located in the heart of downtown San Jose and offers a delicious and cutting-edge menu of American regional cuisine such as fresh seafood, pasta, chicken, and USDA prime, dry-aged steaks.
On New Year's Eve, the restaurant invites everyone to enjoy their special Dinner for Two package to help people say so long to 2011 and ring in the New Year of 2012 in style. For $125 the couple will each receive a glass of champagne, a choice of pear salad or Dungeness crab bisque, a five ounce filet mignon and five ounce lobster tail. They will also be served molten chocolate cake for desert. This price does not include tax or gratuity. Limited standard menu options are also available for those not interested in a dinner for two.
Scott's Seafood will entertain its guests with a talented DJ and provide music for dancing all night long. The DJ will begin at 9 p.m. and start with some light jazz as to not disturb those finishing with dinner. As the evening progresses, the music will pick up as the clock ticks closer to midnight and the dancers get more festive. The music will be the best selections from the 1960's through today.
"Being on the sixth floor provides a nice view of downtown and the surrounding areas," said David Buhagiar of Scott's Seafood. "This is our biggest night of the year as we host more than 350 diners. Not all stay to dance, but the ones that do always have a great time and a night to remember."
To make reservations for New Year's Eve or any night or occasion, contact Scott's Seafood at 408-971-1700. They are located at 185 Park Ave. in San Jose. To learn more about the restaurant, visit them on the web at scottsseafoodsj.com.
About Scott's Seafood
Scott's Seafood has been located in downtown San Jose for more than 25 years and serves delicious Fresh Seafood, pasta, chicken and USDA prime, dry-aged steaks. Their menu features a wide range of delicious Fresh Seafood including Fresh Oysters, Dungeness Crab cakes, Grilled Salmon, Filet Mignon, Roasted Half Chicken, and more. Their restaurant dining room offers banquet space for up to 80 people, private dining with a fireplace, local artwork and paintings, and beautiful views of downtown San Jose.
###