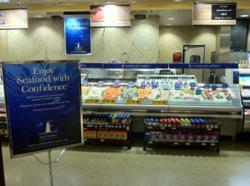 Safe Harbor has already tested more seafood for mercury than all governments in the world combined
Chcago, IL (PRWEB) September 14, 2011
Safe Harbor certification, the world's most comprehensive assurance of seafood safety, has been adopted by Chicagoland merchants and is now available at more than 100 Chicago-area locations, including Dominick's supermarkets. The initiative is designed to bring only the best seafood to Chicago, restoring consumer confidence at a time when the FDA is able to inspect less than 2% of seafood sold in this country.
Safe Harbor Certified Seafood is provided by Micro Analytical Systems, Inc. (MASI) in partnership with Chicago-based seafood wholesaler Supreme Lobster. Safe Harbor Certification is already popular at leading restaurants, retailers and hotels in Las Vegas and San Francisco.
"Seafood is an essential source of nutrition, and we're delighted to join forces with Safe Harbor to restore consumer confidence diminished by concerns about pollution and mercury," said Dominic Stramaglia, Chairman of Supreme Lobster. "The Safe Harbor certification seal also contains all available information about the precise source of the fish, which encourages sustainability."
"We're proud to bring Safe Harbor seafood certification to the people of Illinois and are confident more retailers will adopt the standard," added Mr. Stramaglia. "We are certain that this program will change the way consumers purchase seafood."
Even before the Gulf oil spill and contamination fears in Japan, an IBM Research study in 2009 found that 60% of U.S. consumers were concerned about the safety of the food they eat. Another study that same year, titled "Beyond Organic: How Evolving Consumer Concerns Influence Food Purchases," confirmed that finding, and also found that the safety assurance rated most important by consumers is "low mercury seafood."
"Safe Harbor has already tested more seafood for mercury than all governments in the world combined," said Michael Wittenberg, Vice President of Micro Analytical Systems, Inc., the California-based provider of Safe Harbor Certification. "Now customers who frequent many of these fine restaurants and Dominick's stores can know their certified seafood is as safe as it is nutritious and delicious."
Safe Harbor Certified Seafood is only available at restaurants and retailers that prominently display the Safe Harbor lighthouse seal. Participating Chicago fresh seafood retailers include the Atwood Café, Blackbird, Boka, Brown Trout, Dunlay's on Clark, Dunlay's on the Square, Frontera Grill, Frontier, Gaetano's Restaurant, Japonais, King Fisher, Lockwood, Mastro's Steakhouse, Montara Grill, Parkers Ocean Grill, Recess, Room Four, Rockit, Sepia, Sunda, Topolobampo, Uptown Café, and XOCO, as well as the 79-outlet retailer Dominick's. Dominick's is the nation's first major grocery chain to adopt Safe Harbor Certification.
A continuously updated list of participating merchants can be found at http://www.safeharborchicagoland.com.
About Safe Harbor
Safe Harbor Certification is the first venture of Micro Analytical Systems, Inc. (MASI), headquartered in Emeryville, CA. Safe Harbor certification utilizes a proprietary testing technology exclusive to MASI and capable of accurately measuring mercury concentrations within all species of fish. Founded in 2002, MASI conducts the testing in plants and distribution centers worldwide.
Safe Harbor certifies fresh seafood in the San Francisco Bay Area, Las Vegas, and Chicagoland.
For more information about Safe Harbor seafood certification, please call (855) 807-2806 or visit http://www.safeharborfoods.com.
###