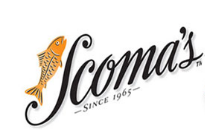 We are very proud with this endeavor, and we will continue to do our part to help our environment and the community
San Francisco, CA (PRWEB) November 30, 2012
Scoma's Restaurant currently operates its own Vegimobile, and is donating thousands of gallons of filtered, used vegetable oil, once used to fry fresh seafood dishes, to the Golden Gate Bridge. The oil is first filtered by a diesel engine powered by used vegetable oil. The filtered oil then powers the bridge's three-wheel maintenance vehicles, as well as some of its larger diesel engines that can consume up to 40 to 50 gallons of fuel per day. In addition to the savings, the fuel has exquisite smell, helping to keep San Francisco's skies clean.
"We are very proud with this endeavor, and we will continue to do our part to help our environment and the community," Tom Creedon, owner and president of Scoma's Restaurant, said.
Scoma's Vegimobile is used as the restaurant's delivery truck, in addition to Creedon's use on his 45-mile per day commute to and from the restaurant. It consumes 50-60 gallons of used vegetable oil per month, saving approximately $75 in fuel costs each week.
Both iconic landmarks-the Golden Gate Bridge and Scoma's Restaurant-are vital touchstones for locals and tourists alike. Now 47 years old, the award-winning restaurant continues to serve San Francisco's freshest seafood in the heart of the Wharf's fishing industry with views of the cherished bridge and the beautiful city. Over the years, the Scoma family has hosted royalty, sports legends, politicians and celebrities from television, stage and film. Many of these visits are memorialized in photos throughout the restaurant.
In addition, Scoma's Restaurant invites families and business corporations to book their holiday parties at this San Francisco fresh seafood restaurant while seats are still available. Group menus are on its website.
For more information about Scoma's Restaurant, call 415-766-0293, view the restaurant on the Web at http://www.scomas.com or visit Pier 47 and Al Scoma Way in San Francisco.
About Scoma's Restaurant
Scoma's Restaurant is a seafood restaurant in Fisherman's Wharf. Steeped with a family tradition of quality and service, Scoma's offers a stunning waterfront setting for intimate dining and private parties. Today it serves more than 400,000 locals and visitors annually. Scoma's Restaurant is committed to protecting and preserving the environment, and holds a licensed fish preparation station, which permits public viewing of seafood as it's prepared for the kitchen daily.
Scoma's is known for its fresh seafood, and especially for its Dungeness crab. The restaurant offers group dining services, which feature exceptional settings, specially designed menus and personalized service for private parties and large groups.