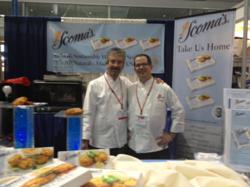 We were thrilled to receive so many compliments in a city that is known for its seafood
San Francisco, CA (PRWEB) April 01, 2012
Scoma's Restaurant, a Fisherman's Wharf restaurant in San Francisco that offers fresh seafood and Dungeness crab, was a big hit at this year's International Boston Seafood Show when it introduced its world famous San Francisco-style clam chowder to thousands of show attendees in early March. Seafood lovers lined up to sample the restaurant's award-winning chowder, soon to be available in grocery stores, along with its line of seafood cakes.
In addition to the clam-packed chowder, Scoma's offered piping hot samples of their San Francisco Style Crab Cakes with Dungeness Crab, Wild Pacific Sockeye Salmon & Shrimp Cakes, Wild Shrimp & Crab Cakes with Dungeness Crab, and San Francisco Style Clam Chowder.
"We were thrilled to receive so many compliments in a city that is known for its seafood," said Chef Alan Fairhurst.
During the show, Scoma's prepared, donated and delivered gallons of its clam chowder to "Bridge Over Troubled Waters," an organization that services homeless and troubled youth.
Scoma's Restaurant is known for its fresh seafood, and especially for its Dungeness crab. The restaurant offers group dining services, which feature exceptional settings, specially designed menus and personalized service for private parties and large groups.
For more information about retail locations or Scoma's Restaurant, call 415-766-0293 or visit scomas.com.
About Scoma's Restaurant
Steeped with a family tradition of quality and service, San Francisco's most popular seafood restaurant first opened in 1965, when brothers Al and Joseph Scoma took over a six-table coffee shop to serve fishermen on the wharf. Using their mother's recipe collection, the Scoma brothers' humble café became so popular that today it serves more than 400,000 locals and visitors annually. Scoma's restaurant is committed to protecting and preserving the environment, and holds a licensed fish preparation station, which permits public viewing of seafood as it's prepared for the kitchen daily. For more information, please visit http://www.scomas.com.