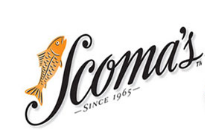 San Francisco, CA (PRWEB) May 26, 2012
Scoma's Restaurant is thrilled to share its 47th birthday with the iconic, 75-year-old Golden Gate Bridge this month, and Scoma's—which offers group dining and fresh seafood, including Dungeness crabs—is commemorating the occasion. Scoma's celebrates the Golden Gate Bridge's 75th birthday with a colorful, limited-edition commemorative beverage glass that features a true-to-life rendition of the bridge on one side and Scoma's logo on the other. Scoma's Restaurant's proprietary Golden Gate Sunset Cocktail, created especially to salute the anniversary, is served in the glass at $14 for guests to keep the glass; the souvenir glass itself is just $7.
The Golden Gate Bridge was just 28 years old when, in 1965, brothers Al and Joe Scoma heard about a small coffee shop on San Francisco's Fisherman's Wharf that was for sale. The brothers bought the tiny, six-seat coffee shop on Pier 47 and served local fishermen breakfast and burgers. Using their mother's recipes, they began the long and ultimately successful process of turning the hidden local hangout into one of the nation's highest grossing, independent restaurants.
Both iconic landmarks–the Golden Gate Bridge and Scoma's Restaurant–are vital touchstones for locals and tourists alike. Now 47 years old, the award-winning restaurant continues to serve San Francisco's freshest seafood in the heart of the Wharf's fishing industry with views of the cherished bridge and the beautiful city. Over the years, the Scoma family has hosted royalty, sports legends, politicians and celebrities from television, stage and film. Many of these visits are memorialized in photos throughout the restaurant.
For more information about Scoma's Restaurant, call 415-766-0293, view the restaurant on the Web at http://www.scomas.com or visit Pier 47 and Al Scoma Way in San Francisco.
About Scoma's Restaurant
Scoma's Restaurant is a seafood restaurant in Fisherman's Wharf. Steeped with a family tradition of quality and service, Scoma's offers a stunning waterfront setting for intimate dining and private parties. Today it serves more than 400,000 locals and visitors annually. Scoma's restaurant is committed to protecting and preserving the environment, and holds a licensed fish preparation station, which permits public viewing of seafood as it's prepared for the kitchen daily.
Scoma's is known for its fresh seafood, and especially for its Dungeness crab. The restaurant offers group dining services, which feature exceptional settings, specially designed menus and personalized service for private parties and large groups.