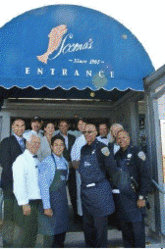 Our guests and staff were thrilled to be a part of this wonderful program.
San Francisco, CA (PRWEB) September 20, 2012
Members of the San Francisco Police Department's Cops & Wishes program joined the Scoma's Restaurant family on Sept. 6 to work as waiters whose tips raised more than $3,000 for Make-A-Wish Greater Bay Area.
During two shifts, six officers delivered guests' orders of Scoma's fresh seafood meals to their tables while sharing inspiring stories about Make-A-Wish and the joy it brings to children with life-threatening medical conditions. Generous tipping took place throughout the day, with diners tipping both their Scoma's waiter--many of whom donated their tips to the fundraiser--and SFPD. Guests who donated an additional $10 received a miniature SFPD cruiser.
"Our guests and staff were thrilled to be a part of this wonderful program," Scoma's President Tom Creedon said. "Not only did our guests enjoy tipping for a great cause, but everyone enjoyed getting to know San Francisco's finest--our brave police officers."
For more than 40 years, the San Francisco fresh seafood restaurant has demonstrated its commitment to the Bay Area through similar fundraising programs.
The SFPD supports Make-A-Wish throughout the year via Cops & Wishes. For more information, please visit SF Wish at http://sf.wish.org/.
For more information about Scoma's Restaurant, call 415-766-0293, view the group dining restaurant on the Web at http://www.scomas.com or visit Pier 47 and Al Scoma Way in San Francisco.
About Scoma's Restaurant
Scoma's Restaurant is a seafood restaurant in Fisherman's Wharf. Steeped with a family tradition of quality and service, Scoma's offers a stunning waterfront setting for intimate dining and private parties. Today it serves more than 400,000 locals and visitors annually. Scoma's restaurant is committed to protecting and preserving the environment, and holds a licensed fish preparation station, which permits public viewing of seafood as it's prepared for the kitchen daily.
Scoma's is known for its fresh seafood and especially for its Dungeness crab. The restaurant offers group dining services, which feature exceptional settings, specially designed menus and personalized service for private parties and large groups.