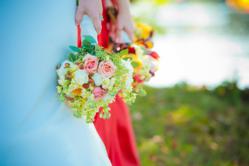 Many brides are opting for a more sophisticated affair in 2013.
Boston, MA (PRWEB) April 30, 2013
As wedding season approaches, many brides are finalizing plans for their big day. With nearly a decade of experience in the wedding industry, the wedding experts at McElroy Weddings share some of the trends people can expect to see at weddings this year.
1. Sophistication
Many brides are opting for a more sophisticated affair in 2013. Even if they choose to have their event at a casual venue, they are including formal details. Brides will be using crystal at an outdoor reception and finding other ways to incorporate old world glamour into their big day. Guests should not be surprised if they get wedding invitations for black tie events.
2. Glamping
Camping may not seem like it fits with the first trend of brides moving towards more sophisticated weddings. However, the new term "glamping" describes luxurious camping in safari-style tents with all of the amenities you'd expect at a five star hotel. Many couples are incorporating these glamorous tents into their wedding day, for the reception and for guests to stay in after the big day.
3. Crazy Cakes
This year, cakes will be one of two extremes: clean and modern or over the top. Some brides are choosing simple cakes with a sophisticated detail, like a monogram. Others are using bold colors and patterns to create a bold and unique cake.
4. Patterns
Wedding trends tend to follow fashion trends, and 2013 is no exception. Prints and patterns are showing up in stores this spring and summer, and they will also be a big wedding trend. Patterns and prints are a great way for brides to add a bit of whimsy to their big day.
5. English Garden
When it comes to flowers, many brides are taking cues from an English garden. Brides are looking for a look that isn't too polished, but still feels sophisticated. Peonies will be a hit this year, showing up in bouquets and centerpieces.
6. Food Trucks
As food trucks continue to gain popularity around the country, this year they will be incorporated into more weddings. Couples may choose to have a variety of gourmet food trucks on hand to serve reception food at a casual outdoor wedding. Or, they may have one show up to offer guests a late-night snack after a more formal affair. Either way, food trucks are here to stay and will create a memorable wedding experience.
7. Think Local
This year, couples will continue to focus on having receptions that utilize local vendors. Regional food and wine will be featured at many weddings throughout this spring and summer. Caterers will source food locally and create creative menus that highlight sustainable living.
About McElroy Weddings:
McElroy Weddings, a division of McElroy Films, is an award-winning high definition wedding videography and photography company serving all of Massachusetts and New England. The team of excellent and experienced Boston videographers, professional audio, and professional HD cameras such as Canon DSLRs and Sony EX. McElroy Weddings guarantees top quality coverage of every aspect of your wedding day and beyond.