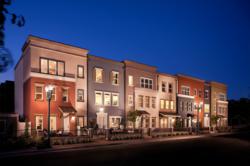 This extra level of confidence ensures our homebuyers years of protection against builder defects
Covina, CA (PRWEB) October 05, 2011
Today's homebuyers can experience a lifestyle inspired by fresh thinking, innovative design, and modern style. Citrus Walk offers homebuyers a new take on in-town living that stands out. It's a new kind of life that includes fresh-new flooring, fixtures, a/c, appliances and warranties that keep things simple. Citrus Walk living allows a leave the car in the garage and walk to the local café, bakery or coffeehouse lifestyle. Life here offers local conveniences such as a nice stroll through the newly remodeled "Heritage Park" or the purchase of fresh produce at the Farmer's Market around the corner. During the week, Metrolink creates a convenient commuting solution and nearby freeway access connects homeowners to employment and city centers in every direction. This is fresh new community in an established vintage downtown. Citrus Walk represents everything that is great about living an in-town lifestyle.
Citrus Walk is The Olson Company's fifth new urban living residential development in the Covina area. The Citrus Walk community offers 37 townhomes and 8,000 square feet of new retail space along downtown Covina's Citrus Avenue, with 12 flats over the new retail storefronts including affordable units. The townhomes, each with approximately 1,600square feet and three stories, have 3 bedrooms, 2 baths and 1-2 powder rooms, and 2-car garages.
The homes, built to exceed LEED Certified green living standards, feature energy efficient amenities including Energy Star appliances; water efficient and lead-free faucets; highly water efficient toilets; auto shut-off motion sensors in all baths, space saving tank-less water heaters, and built-in recycle bins, among many other features.
"The Citrus Walk community represents the culmination of years of work with the City of Covina to create a new brand of 'walkable' community within Covina's downtown, offering the best of an in-town lifestyle," said Steve Olson, Chairman/CEO of The Olson Company. "Located close to shops, restaurants, and MetroLink's new Express line that gets you to downtown Los Angeles in 20 minutes, Citrus Walk embraces and caters to young active lifestyles."
The Olson Company's numerous successful urban living developments across Southern California over the last 22 years reflect its commitment to making the homebuyer top priority. The Olson Company has garnered prestigious Eliant Awards in six categories of homeowner satisfaction in 2010, including a number one ranking for the "Design Selection" experience, number two for delivering an incredible experience during the Purchase, Construction, and Customer Service phases, and a number two ranking for "Overall Quality" and "Sales from Referrals." The Olson Company believes in "livability," and implements a thoughtful and detail-oriented approach from concept through execution. As part of their unique approach to creating these communities, The Olson Company understands all that goes into buying a new home and provides ongoing tailored services to support the needs of its homeowners, including financial education and the exclusive Homeowner Champion Program that is part of Olson Homes commitment to customer satisfaction and is part of Olson Homes' 10 year limited warranty. "This extra level of confidence ensures our homebuyers years of protection against builder defects" Steve Olson said in a recent interview.
The Citrus Walk sales center is located at 137 E. Italia Street, Covina, CA 91723. To learn more about Citrus Walk and how to take advantage of this opportunity to own a new home now, visit CitrusWalk.com.
###