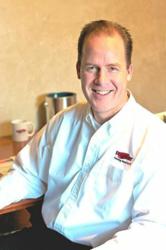 I find good people and enable them to do their job. The painters I hired have 10 to 12 years experience. Their speed and skill is amazing. It's like anything else where you really see the difference between an amateur and a pro.
Cincinnati, OH (Vocus/PRWEB) March 15, 2011
As part of the launch of Fresh Coat Painters of Lansing, Michigan, owner Mark Bertilrud will participate in the Lansing Home and Garden Show March 17-20 at MSU Pavilion. He considers it just one more way to reconnect with his neighbors in Okemos, East Lansing, Haslett and other Greater Lansing communities.
For the last several years, Bertilrud's job required him to leave his home in Okemos early each morning and return late each evening. "I knew it was time for a change," he said. "I like my community, and I was tired of feeling like a visitor."
The idea of starting his own business was fueled by a visit to the library where he spotted an Entrepreneur magazine that featured Fresh Coat Painting. "I started talking to people about who they would recommend for painting services," he said. "They couldn't tell me who they would call, but many could tell me who they wouldn't call. They shared stories about how they couldn't get an estimate or they couldn't get a quote that was acceptable. The theme was consistent and always ended in a strong sense of frustration."
He could see the need and the opportunity in the region. His initial contact with Fresh Coat convinced him he was on the right track. After he and his wife, Pam, finished training week, both were certain.
"It was clear from the beginning that these are guys who are business people who follow a business model," Bertilrud said, noting the commitment to service, quality and professionalism.
Bernie Brozek, president of Fresh Coat, said the business model sets it apart from many others. "Owners like Mark understand that running a painting business isn't about painting," he said. "It's about the client's entire experience from that first call to the job completion and beyond. It's about building a long-term relationship."
To that end, Bertilrud will devote most of his time promoting the business while his team actually does the work. He sees that aspect as similar to his previous work as a health care administrator. "I wasn't a nurse or a doctor, but I supervised a nursing staff and I knew how to hire good nurses," he said. "I see the same pattern here. I find good people and enable them to do their job. The painters I hired have 10 to 12 years' experience. Their speed and skill is amazing. It's like anything else where you really see the difference between an amateur and a pro."
Because Fresh Coat hires only employees, never subcontractors, the job applicants also appreciated the business model, he said. "When I explained that I would spend my time looking for more work, their response was 'That's awesome!' because they want to work. Not just a couple days week, but 40 hours a week," he said. "They told me 'don't paint; go get jobs' because they understood that if I were working 'in' the business, I couldn't work 'on' the business." Having a solid team makes a difference, he said, in his business and in the Fresh Coat franchise system. "If I've got a question, in 10 minutes, I've got an answer whereas on my own, it might have taken three days of research," he said.
Brozek said helping franchise owners succeed is a company priority. And, by being part of a larger team, they can offer client assistance programs, such as a 24/7 call center, Paint Now-Pay Later 12-months same-as-cash financing, Automatic Touch-Up for businesses, and fund-raising opportunities for charities. Bertilrud feels an "incredible sense of optimism" about his business and his community.
"I want ours to be a first-class, highly professional company that offers real benefits to our clients, so much so that there are no more blank stares when someone asks about which painting company they would recommend," he said. "I want their first thought to be Fresh Coat Painting."
To learn more or to schedule an on-site quote for residential or commercial projects in Greater Lansing, visit Bertilrud at Booth 1472 at the Home and Garden Show, call 517-803-4645 or visit http://www.freshcoatlansing.com.
Founded in 2004 in Cincinnati, Ohio, Fresh Coat Painters provides services for residential, commercial and governmental customers in more than 100 major cities across the United States and Canada. Fresh Coat is part of the International Franchise Association, the Small Business Association's Franchise Registry, VetFran and Minority Fran. For more information, call 866-708-9355 or visit http://www.freshcoatpainters.com.
###