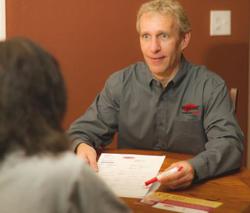 We're not selling paint. We're making relationships. It's not about 'what' you sell. It's how you treat people.
Cincinnati, OH (Vocus/PRWEB) March 15, 2011
Greg Jewell has launched Fresh Coat Painting of Scottsdale with services for that city as well as in north Phoenix, Paradise Valley, Fountain Hills, Carefree and surrounding Arizona communities.
After years of working as a controller for various companies, Jewell says he's enjoys having a job that lets him "get outside and see what the weather is like."
"I've always had the desire to own my own business," he said, noting he considered restaurants, coffee shops and music stores. "I was just tired of sitting in the dark at a desk."
An unpleasant incident last July provided him with the epiphany he was seeking. He came home to find that his house had flooded, which resulted in serious water damage.
"As the house started being put back together, I observed the workers," he said. "The painters were the worst. They were sloppy. They smoked, played loud music. Worse than that, they washed their materials in my front yard. What a mess."
That's when he understood it's not about the painting, it's about the service.
"Think about it. Suppose you notice how nice the paint job is in someone's house and ask for a recommendation. More often than not, you won't hear about the painting," Jewell said. "You'll hear about how the workers didn't show up on time or they left a mess or they were rude or whatever."
In doing his online research, he was impressed by Fresh Coat and its take on the industry.
"I loved the model," he said. "We're not selling paint. We're making relationships. It's not about 'what' you sell. It's how you treat people."
Bernie Brozek, Fresh Coat president, said all franchise owners understand that distinction.
"We encourage our owners to focus on marketing and growing their businesses," he said. "This means they are making contacts, talking with clients, hiring quality employees and providing top-notch service."
When Jewell began interviewing painters, he found they appreciated the distinction as well.
"Many don't know how to market or network. They know how to paint, and that's what they want to do," he said.
In addition, his Client Service Manager uses his knowledge of painting and his supervisory skills to work with clients to confirm things in advance, oversee onsite operations, and follow up to ensure satisfaction.
Because Fresh Coat hires only employees, never subcontractors, Jewell said his team members work together, each offering unique abilities for the whole. He sees that same benefit in being one franchise within a larger organization.
"There is the economy of scale," he said. "With 50-plus owners, we can get good pricing on a national scale. It's also great to know I'm one phone call away from real expertise. And, they're looking at data from across all the owners to see what's working and what isn't and tweaking it."
Brozek said helping franchise owners succeed is a company priority. Among the advantages are several client assistance programs, such as a 24/7 call center, Paint Now-Pay Later 12-months-same-as-cash financing, Automatic Touch-Up for businesses, and fund-raising opportunities for charities.
"I think having that 24/7 call center is important," Jewell said. "When I'm with a client, I want to give that client my full attention, so it's important to know that any other client is receiving all the attention necessary even if I'm not available right then."
Jewell believes he has found the best business for him, his employees and his clients.
"I know things happen for a reason," he said. "That flood happened for a reason. Now, I want Fresh Coat to become known as 'the company' clients want to use and 'the place' people want to work."
To learn more or to schedule a free, on-site quote for residential or commercial projects in the Scottsdale area, call Jewell at 480-374-1506 or visit http://www.freshcoatscottsdale.com.
Founded in 2004 in Cincinnati, Ohio, Fresh Coat Painters provides services for residential, commercial and governmental customers in more than 100 major cities across the United States and Canada. Fresh Coat is part of the International Franchise Association, the Small Business Association's Franchise Registry, VetFran and Minority Fran. For more information, call 866-708-9355 or visit http://www.freshcoatpainters.com.
###