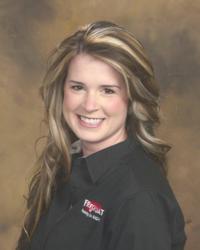 Amanda's drive is one of her best attributes. Women like Amanda have the intelligence, dedication and vision to operate their own businesses. We strive to complement those traits ....
Cincinnati, OH (Vocus/PRWEB) March 15, 2011
Amanda Todt will launch her Fresh Coat Painting franchise in mid-March to serve Cape Girardeau, Mo., and its surrounding communities.
Todt said she wanted to own a business "where the product was something people needed and something they valued," and based on her own experiences, she knew painting services would fit the bill.
As a former independent insurance adjuster, she was called to many of the major storms, including Katrina and Rita. She recalled that the painters were the most unprofessional – showing up late or not at all, unprepared, whatever. Later, when she needed a painter for her own home, she found similar inadequacies.
"I thought the market was open to someone who treats it correctly," she said.
Her research led her to Fresh Coat, and she and husband Jason, her "biggest cheerleader," visited the headquarters. Both became "really enthusiastic" about the opportunity.
"He's really driven, and so am I," Todt said, but as a general manager of an automobile dealership, Jason takes a more analytical approach than she. "I'm the wow, and he's the how."
"Fresh Coat offered the best value for the money. They really had done their research, and they want to share it with you. They're a good group of guys who really want you to succeed."
Bernie Brozek, president of Fresh Coat, said helping franchise owners start and grow their businesses is of paramount importance to the corporate team.
"Amanda's drive is one of her best attributes," he said. "Women like Amanda have the intelligence, dedication and vision to operate their own businesses. We strive to complement those traits by providing professional support through our marketing, training and resource materials."
With that support, Todt said she has no concerns about being a woman in a male-dominated field.
"It just drives me a little bit more," she said. "I do take the attitude of 'go big or go home.' I want them (competitors) to underestimate me, so I can take them by surprise."
One advantage she has over others in the industry is the Fresh Coat business plan, which gives her a "big-business feel with a small-business price tag," she said. Fresh Coat hires only employees, never subcontractors, and the business model helped her attract excellent job applicants, all "family men" with more than 17 years' total experience.
"When I've explained our branding and our approach, they were very receptive because they get to do painting without having to do marketing," she said. "They're happy with that, and happy workers are productive workers. The way I see it, if you combine an excellent painter with an excellent marketer, the possibilities are limitless."
Other "big-business" perks Todt values are Fresh Coat's services for clients. Among them are a 24/7 call center, the Paint Now-Pay Later™ 12-months-same-as-cash financing program, an Automatic Touch-Up program for business owners, fund-raising opportunities for nonprofits, and service incentives for client referrals.
"I know that word-of-mouth is the best advertising," Todt said. "If grandma's happy, she'll tell five other grandmas and everybody at her church."
And those referrals can benefit everyone, she said.
"I recently attended a meeting with a church group where I explained it," she said. "It's really simple. I paint your room for $199, and you refer me to two people. They have me paint their rooms, and I'll paint a room free for you. And, here's the deal, you don't have to accept it. You can donate it to your church. I could end up painting the whole church from the donations of its members."
To learn more about Fresh Coat of Southeast Missouri, you can visit Todt's booth at the Southeast Missouri Home Builders Association's Home and Garden Show from March 18-20 at the Show Me Center in Cape Girardeau. To schedule an on-site quote for residential or commercial projects in the region, call her at 573-837-4427 or visit http://www.freshcoatofsemo.com.
Founded in 2004 in Cincinnati, Ohio, Fresh Coat Painters provides services for residential, commercial and governmental customers in more than 100 major cities across the United States and Canada. Fresh Coat is part of the International Franchise Association, the Small Business Association's Franchise Registry, VetFran and Minority Fran. For more information, call 866-708-9355 or visit http://www.freshcoatpainters.com.
# # #