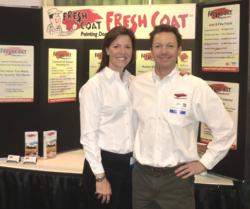 When you're inviting someone into your home, you want to know that you, your family and your things are safe. That's vitally important."
Cincinnati, Ohio (PRWEB) February 14, 2012
Fresh Coat Painters is expanding its operations in Colorado with the addition of Russell and Claire Lindsay as its newest franchise owners. The couple is launching Fresh Coat Painters of Denver this week through their participation in the Colorado Garden and Home Show, under way through Feb. 19 at the Colorado Convention Center in downtown Denver.
For the Lindsays, Fresh Coat offered an opportunity to continue their entrepreneurial efforts and to bring a new level of professionalism to an often inconsistent industry.
The couple learned about Fresh Coat from a Florida-based franchise owner who also hails from South Africa. Russell said the more he learned about the company's business model, the more he came to believe Denver also could benefit from its offerings.
"We were ready to expand our horizons," he said. "We had had success with a previous franchise, and we were very impressed with Fresh Coat. It made a lot of sense for us."
Most notably, both he and Claire said, was the importance of "trust" built into the business model.
"When you're inviting someone into your home, you want to know that you, your family and your things are safe," Claire said. "That's vitally important."
Russell noted that the image of the painting industry suffers because of clients' negative experiences.
"When we asked friends and associates about good painters, no one could name someone they would recommend," he said. "Often they commented on the lack of professionalism – such as the people arriving late, taking longer than projected, doing sloppy work, and worst of all, having items go missing from the home."
For both Claire and Russell, the biggest selling point for the Fresh Coat franchise was its policy of hiring its employees and never using subcontractors.
"I love that we hire our painters, so we can license and insure them, and we can do background checks on them," Russell said. "We can assure clients of the caliber of our people."
Claire added: "That trust factor weighs heavily in our favor with clients. And it allows us to hire the best workers."
Bernie Brozek, president of Fresh Coat Painters, said that the company's business model does set it apart from its competitors, and it's a model appreciated by both owners and employees.
"Our owners focus their attention on promoting and growing the business," he said. "They hire professional painters who focus their attention on providing top-notch service to each and every client. Because of our structure, clients receive the best skills of all concerned."
Because neither Russell nor Claire has painting experience, Russell said they were thrilled to be able to focus on the management and marketing skills they know best and hire others with the technical skills.
"Our client service manager has extensive construction management experience," Russell said, "and our painters have extensive painting experience. They're excellent at what they do, and they appreciate that we can provide them steady employment for the foreseeable future."
Claire said she anticipates a growing need for quality painting services.
"With this economy, people are opting to remain in their current homes," she said. "They're working with what they have, and painting can really make a big difference. For a relatively small investment, they can improve their home and make it look and feel completely different."
Fresh Coat's Paint Now-Pay Later program also provides a real help for those who do need to sell their homes, Claire said.
"Realtors will tell you that a freshly painted home sells faster, and that program allows clients to get the work done and pay at the closing months later," she said. "It's a real benefit to us and to our clients."
Brozek said helping Fresh Coat franchise owners succeed is of paramount importance to the company.
"We complement their inherent abilities with quality marketing, training and resource materials," he said. "With that, we offer several client assistance programs including the Paint Now-Pay Later same-as-cash financing as well as a 24/7 call center, proprietary EPIC estimating system, Automatic Touch-Up for businesses, and fund-raising opportunities for charities."
Russell said all those factors combined to lead him and his wife to buy the franchise.
"The training reinforced our decision," he said. "The business fundamentals are sound. With Fresh Coat, we have a tried, tested and proven system that supports franchise owners and their clients. I love that we have a 24-7 call center. But most importantly, our painters are our employees, so we can offer peace of mind to our clients and take the pain out of painting."
To learn more or to schedule an on-site quote for residential or commercial projects in Denver, Arvada, Aurora, Boulder, Golden, Littleton or their surrounding Colorado communities, , visit the Lindsays at Booth 1681 at this week's Colorado Garden and Home Show in Denver, call them at 303-993-1492 or visit their website at http://www.freshcoatdenver.com.
Founded in 2004 in Cincinnati, Ohio, Fresh Coat Painters provides services for residential, commercial and governmental customers in more than 100 major cities across the United States and Canada. Fresh Coat is part of the International Franchise Association, the Small Business Association's Franchise Registry, VetFran and Minority Fran. For more information, call 866-708-9355 or visit http://www.freshcoatpainters.com.
###