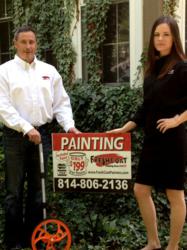 The call center adds real value for promoting the business and scheduling appointments. There's no greater turnoff to potential clients than an answering machine.
Cincinnati, Ohio (PRWEB) September 06, 2012
As the owner of multiple businesses, Tony Campanella is a busy man, but he's not one to pass up an excellent opportunity. He sees his new Fresh Coat Painters franchise as a valuable service that fulfills a real need in his Erie, Pa., community.
"For 20 years, I worked in my family's business of packaging and shipping industrial supplies," he said. "For 10 years, I've owned multiple rental properties. Four years ago, I entered the hospitality business by opening a coffee shop. I see Fresh Coat as another income stream for me and a service for my community's homeowners and small businesses."
Although Fresh Coat is nationally known as the top residential painting company, Campanella said his rental properties demonstrated the need for services for small commercial enterprises.
"When I needed painting done, the large operators were just too expensive for me and the small operators didn't get back to me," he said. "My business was not big enough to attract their attention, so I could definitely see room in the marketplace for a company with professional services at affordable prices."
Campanella knew he wanted to buy a franchise because he didn't have the time to create the business from the ground up.
"I researched and found Fresh Coat was among the top low-cost franchises," he said. "It gets great reviews and has a great reputation. I liked the system, too. I don't like painting, so when I read that owners need never pick up a paint brush, I was sold. If I were creating a franchise, this is the system I'd put in place."
Bernie Brozek, president of Fresh Coat, said the business model is a major selling point.
"Our structure is such that owners run the business and professional painters do the painting," he said. "It's about providing clients with the best skills of all those involved, so that they become repeat customers and recommend Fresh Coat to others. It's about building long-term relationships. And because we use only our employees, never subcontractors, clients can be sure that when they hire Fresh Coat, no other company's truck is going to show up in the driveway."
Campanella said painters also appreciate the structure because while most like painting, they don't necessarily like giving the quotes or doing the billing and bookkeeping.
"I was fortunate to hire an experienced, qualified painter who was relocating to Erie so he and his wife could be closer to family," he said. "He appreciated the structure of the company and the opportunity to work year-round. I interviewed several painters, and that was a common refrain. Right now, demand is high and they're really busy, but soon those jobs will be gone, and they'll be back to looking for work."
Brozek said the company has found that good painters want steady employment and a steady paycheck.
"They want to be able to establish credit and invest in the future for themselves, their families and their communities," he said. "Our structure makes year-round employment possible because our owners get the support they need in the way of marketing, training and resource materials, so they can promote and grow the business."
Campanella said he was impressed with the caliber of those materials.
"I come from a background in small business, so I know how difficult it is to come up with ideas to showcase your product or services, then create a professional sales piece," he said. "Fresh Coat's printed materials are effective, and with the additional focus on the internet and social media, they're adding even more value for franchise owners."
Clients also benefit from several corporate programs such as its 24/7 call center, proprietary EPIC estimating system, Paint Now-Pay Later same-as-cash financing, Automatic Touch-Up for businesses, and fund-raising opportunities for charities.
"The call center adds real value for promoting the business and scheduling appointments," Campanella said. "There's no greater turnoff to potential clients than an answering machine."
With the EPIC system, he said, clients get a professional, computerized printout regarding their project complete with a description of the work, a timetable for completion, and a quote, not an estimate, of the costs. "There's room to add remarks to the quote as well, so clients can see everything in writing. That's just one more way to build quality relationships with our clients."
To learn more about Fresh Coat Painters of Erie or to schedule an on-site quote for residential or commercial projects in Erie, Girard, North East, Fairview, Millcreek, Lake City, Summit, Edinboro, Harborcreek, Lawrence Park, Wesleyville, East Springfield, Albion or their surrounding Pennsylvania communities , call 814-806-2136 or visit http://www.freshcoaterie.com.
Founded in 2004 in Cincinnati, Ohio, Fresh Coat Painters provides services for residential, commercial and governmental customers in more than 100 major cities across the United States and Canada. Fresh Coat is part of the International Franchise Association, the Small Business Association's Franchise Registry, VetFran and Minority Fran. For more information, call 866-708-9355 or visit http://www.freshcoatpainters.com.