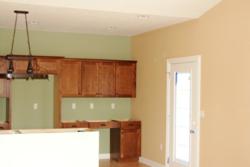 Instead of just straight-up painting, we wanted to give them something more. We wanted to use color to spotlight how paint can showcase architectural features or amenities of the home.
Belvidere, IL (PRWEB) July 05, 2011
Fresh Coat Painters and Sherwin-Williams are teaming up to bring customized color to this year's "raffle house" for the 19th Annual Great Home Giveaway for The Arc of Winnebago, Boone & Ogle Counties.
Traditionally, the walls and trim of the interior of the house were primed and painted white, said Lisa Bartholme, event coordinator. This year, each room of the house will be painted in colors that bring out its best features.
Mike Solberg, owner of Fresh Coat Painters of Belvidere, said he's thrilled to be a part of the annual fund-raising event for The Arc.
"Instead of just straight-up painting, we wanted to give them something more," he said. "We wanted to use color to spotlight how paint can showcase architectural features or amenities of the home. For example, we can explain how the kitchen cabinets can be complemented with the correct use of color, so that those beautiful cabinets get the attention they deserve. They'll just 'pop' as visitors walk into the space."
He added that an accent wall in the master bedroom will highlight the beauty of the bedroom suite that the furniture supplier has for the room. And other rooms of the house will have colors that bring out their particular features such as the marble selection in the master bath or the quartz countertop in the kitchen. Indeed, the paint on the walls acts almost like the proper frame around a piece of artwork.
"We can explain how color works and how we can provide the expertise to present that color at its best," Solberg said.
Bartholme asked Fresh Coat to become involved because of her personal experience with that caliber of knowledge.
"I contacted Fresh Coat after Mike and his crew had done work on my personal home," she said. "I was very impressed by their attention to detail. It is one of those experiences that don't happen very often – you get more than you expected."
Once he was on board, Solberg reached out to Tim Aldrich, market manager for Sherwin Williams, Belvidere, to urge him to donate the paint and to tap into his resources to enhance the effort.
Aldrich welcomed the opportunity because he, too, wanted to give The Arc special treatment. He asked Sara Antuna, interior decorating specialist, to share her expertise. Antuna works with the Sherwin-Williams' stores in Belvidere and in Rockford.
"I'm happy to be working with Fresh Coat," Aldrich said, "because we've done several projects with Mike, and he's always been very professional both with the end-user and with my product. The quality of his work makes our paint look good, and the quality of our paint makes his work look good. It's a great collaboration."
Antuna met with The Arc's representatives, and together they determined which colors would work best with the tiles, flooring, woodwork, countertops and other features of the home.
"I know they'll be using about eight or nine different colors in the house to create a color scheme that flows throughout," Aldrich said. "I'm excited to see the finished work."
Bartholme said The Arc is thrilled that Fresh Coat and Sherwin-Williams are joining the dozens of sponsors who make the Great Home Giveaway such a success year after year.
"We are excited to be partnering with Fresh Coat. Their creativity, attention to detail, and professionalism will make this year's 'raffle house' one of the best ever," she said. "We also are very excited that Fresh Coat brought in Sherwin-Williams. They have that creative eye that will tie the entire house together."
The Arc helps families to rear children with developmental disabilities in their homes and supports adults with such disabilities to live in their communities, close to work, family and friends. Each year, as a major fundraiser for the organization, it raffles off a new house that has been built through the efforts of community businesses and groups.
This year's prize is a fully accessible 1,725-square-foot, three-bedroom ranch style home built by Howlett Homes at 393 University Drive, Rockford. Features include an open floor plan with a great room, bay window, cathedral ceilings, custom maple and quartz kitchen, stainless steel appliances, master suite with walk-in shower, two-car garage and much more.
Tours of the house begin later this summer. Raffle tickets are $20 each. The winner will be selected on Oct. 20. For details, visit The Arc's website at http://www.arcwbo.org.
To learn more about Fresh Coat of Belvidere or to request a free onsite quote, call Solberg at 815-544-6999 or visit http://www.freshcoatpaintersofbelvidere.com. Sherwin-Williams of Belvidere can be reached at 815-544-8484 or through http://www.sherwin-williams.com.
Founded in 2004 in Cincinnati, Ohio, Fresh Coat Painters provides services for residential, commercial and governmental customers in more than 100 major cities across the United States and Canada. Fresh Coat is part of the International Franchise Association, the Small Business Association's Franchise Registry, VetFran and Minority Fran. For more information, call 866-708-9355 or visit http://www.freshcoatpainters.com.
###