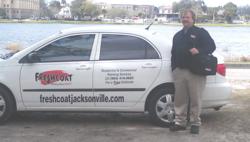 Cincinnati, Ohio (PRWEB) March 06, 2012
Fresh Coat Painters continues its expansion in Florida with the opening of Chris Lehr's franchise to serve Jacksonville and its surrounding communities in Duval, Nassau and Clay counties.
With decades of experience in construction and property management, Lehr said he was ready to start his own business and, after several months of evaluating franchises, he welcomed the opportunity to pair with Fresh Coat because its principles matched his own.
"I never had a client who didn't like me; they knew I always wanted to do the job right," he said. "The Fresh Coat business model fit me to a tee because of its focus on excellent client service."
Bernie Brozek, president of Fresh Coat Painters, said many owners express similar sentiments.
"Our motto of 'Painting Done Right' does resonate with people like Chris," he said. "Chris knows first-hand that what sets one company apart from another usually comes down to client service and satisfaction. Our structure ensures clients get the best of all involved from the initial phone call throughout the project and into the follow-up. It's about building long-term relationships."
Lehr said that level of professionalism clicked with him.
"I've been in and around construction my whole life," he said. "I've seen the bad operators – people with little work ethic, people who don't return phone calls, people who leave jobs unfinished. Clients may use them once, but they won't call them again or recommend them to others."
Indeed he already has seen evidence of that pattern in the first days of his new business.
"I went out to provide an estimate on a job," he said. "The owner was impressed that I showed up when I said I would. Others didn't. That's a pretty basic thing.
"I want to work with people who take pride in their work. And I'm glad the Fresh Coat structure allows each member of the team to use their best abilities. I'm certainly no painter. I get way too particular. It would take weeks for me to finish a job, so it's great that I can hire skilled people and provide them with steady employment plus paid vacations, holidays and other benefits."
Lehr said he has had no difficulty finding quality applicants.
"We've got some good people here," he said. "Often they had owned a business, but didn't know how to market it. With our structure, I network, promote and grow the business, and they put their focus on the projects."
Brozek said the company's research has found that the business model satisfies both owners and their employees.
"Because Fresh Coat hires only employees, never subcontractors, our model does offer stability to painters in a high-demand industry with way too many fly-by-night operators," he said. "And our owners get our ongoing support because one of our primary goals is helping our franchisees succeed with quality marketing, training and resource materials."
Among those materials are several client assistance programs including a 24/7 call center, the proprietary EPIC estimating system, Paint Now-Pay Later same-as-cash financing, Automatic Touch-Up service for businesses, and fund-raising opportunities for charities.
"The 24-7 call center is great," Lehr said. "If you can call anytime and get someone to answer, that is big. Especially these days. And if that person can actually answer your questions, that's truly impressive."
He also has found that clients also are impressed when he can provide a firm quote, not just an estimate, on the spot complete with a printout detailing the job, the schedule, and the price including quality paint.
"Our EPIC system does create bit of a 'wow factor' because clients are so used to either not receiving an estimate right away or getting some handwritten, chicken-scratching that's supposed to be an estimate," he said. "We're using a laser measure and getting very accurate readings. From that, we can put the numbers into our computer and create a printed summary of the project with an accurate price and timeframe. No surprises later."
As part of Lehr's opening, he will participate in the Spring Home and Patio Show at the Prime F. Osborne III Convention Center in downtown Jacksonville from March 8-11. Visit him at Booth 545. To learn more about Fresh Coat Painters of Jacksonville or to schedule an on-site quote for residential or commercial projects in Duval, Nassau or Clay counties and any of their Florida communities, call 904-416-0685 or visit http://www.freshcoatjacksonville.com.
Founded in 2004 in Cincinnati, Ohio, Fresh Coat Painters provides services for residential, commercial and governmental customers in more than 100 major cities across the United States and Canada. Fresh Coat is part of the International Franchise Association, the Small Business Association's Franchise Registry, VetFran and Minority Fran. For more information, call 866-708-9355 or visit http://www.freshcoatpainters.com.