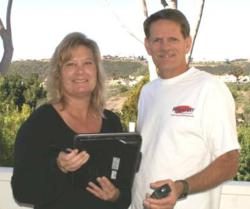 Our quotes are solid, not a guess. And, it's not a hand-written note on whatever piece of paper happens to be available. It feels solid and it's easy to understand. Everything is spelled out. People like that.
Cincinnati, Oh (PRWEB) October 10, 2011
Fresh Coat Painters has expanded operations in California with the opening of Jennifer Elliott's franchise to serve Laguna Niguel, Dana Point, Laguna Beach, San Clemente and surrounding Orange County communities.
Opening a painting business is "right up my alley," Elliott said, because it tied in so well with many of the previous jobs she has held as she raised her two daughters.
"I primarily tried to do jobs that I could do while they were in school," she said. "That led to work as an in-home estimator for a closet designer. And I dabbled in real estate and home staging. Fresh Coat lets me use a lot of the same attributes, and I always appreciated the painters and the difference the right paint could make in a person's home."
After the children were grown, she and her husband, Jim, relocated to Southern California where they owned some rental properties.
"I was ready to turn our focus toward building a business for us," she said, while Jim could continue his work as a civil engineer.
After investigating various opportunities online, the couple decided that Fresh Coat was the best option.
"Fresh Coat stood out for me," Elliott said. "I felt it was more professional, more personable that other franchise opportunities out there. And that was more in keeping with my personality. I want to get people excited about their projects with the understanding that it doesn't have to be a chore. They're making an investment toward the improvement of their home, so let's make the experience go as smoothly as we can."
Bernie Brozek, president of Fresh Coat, praised Elliott's experience and enthusiasm.
"Jennifer knows first-hand how important client service is to ongoing success," he said. "Like our other franchise owners, she understands that client service begins with the initial phone call and continues throughout the project and the follow-up. Our owners promote their business while the staff focuses on the job. With that commitment to quality, the client gets the best skills of each person. And, because we hire only employees, never subcontractors, the painters appreciate the stability of the work as well."
Elliott said the Fresh Coat business model does help to ensure professionalism all along the way.
"I am very people-oriented, so I enjoy the networking and marketing aspects of the business," she said. "I like meeting with clients, discussing their projects, and explaining what we can do. Once the project begins, I'm equally happy to let the painters do the painting. That's not my forte. Actually my first painter comes from a long line of painters, even went on jobs with his father when he was just a boy, and he said he's happy to let me find the jobs because he likes the painting, not the marketing. It really is a good match."
Elliott said she also appreciated the marketing, training and resource materials provided Fresh Coat.
"I really valued the support before, during and after my launch," she said. "I could really hit the ground running, much faster than I could have on my own."
Brozek said supporting franchise owners' success is of paramount importance, and one of the ways the corporate office does that is through its client assistance programs. Among those are a 24/7 call center, proprietary EPIC estimating system, Paint Now-Pay Later 12-months-same-as-cash financing, Automatic Touch-Up for businesses, and fund-raising opportunities for charities.
"I am a stickler for having the phone answered," Elliott said. "For me, when I'm with a client, my phone is off because I want to give that client 100% of my attention. Without the 24/7 call center, I would be missing calls or the caller would not be getting the help they need. It's great that they can get answers right then and there."
She also noted that the EPIC system allows for much more professional quotes for clients.
"It really makes us look good," she said. "Our quotes are solid, not a guess. And, it's not a hand-written note on whatever piece of paper happens to be available. It feels solid and it's easy to understand. Everything is spelled out. People like that."
To learn more about Fresh Coat Painters of Laguna Niguel or to schedule a free on-site quote for residential or commercial projects in Orange County, Calif., and its surrounding communities, call 949-391-4856 or visit http://www.freshcoatlagunaniguel.com.
Founded in 2004 in Cincinnati, Ohio, Fresh Coat Painters provides services for residential, commercial and governmental customers in more than 100 major cities across the United States and Canada. Fresh Coat is part of the International Franchise Association, the Small Business Association's Franchise Registry, VetFran and Minority Fran. For more information, call 866-708-9355 or visit http://www.freshcoatpainters.com.
###