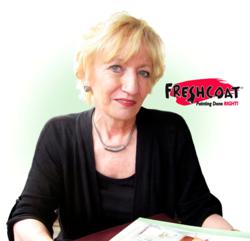 Business can be taught, skills can be improved, but passion and caring can only be demonstrated. People know it when they see it.
Cincinnati, Ohio (PRWEB) September 17, 2012
After decades of business success, Kathryn Boyd could have chosen to rest on her laurels and enjoy an early retirement. Instead she is opening Fresh Coat Painters of Lancaster, Pa., to promote professional painting services within her community.
It's not the first time she's been a woman in a male-dominated field. When she found herself as a single mother of two, Boyd knew she needed a better-paying position than her teaching job. She started work in a business brokerage house before becoming one of the first women to attain a license for the coupon company that later became Valpak, one of the most successful franchises in the country.
"At the time, couponing was a very new idea, quite an innovation," she said. "I was a young woman and one of the few in that world. For 22 years, I found it fun, exciting, creative and innovative."
In 2009, she sold her stake. Since then, she's enjoyed traveling and doing things she hadn't had time to do before. But she grew restless, and in an effort to determine her next move, she did some business consulting and looked for an opportunity to address a real need.
"I guess I don't know how not to work," she said, noting that she started working at age 15. "I was ready to try something new and innovative, and Fresh Coat fit the bill. It's creative and fun, and painting adds beauty and has a lasting impact."
Boyd was particularly impressed with the Fresh Coat business model that emphasizes client service.
"I saw that first-hand," she said. "It was my first surprise with Fresh Coat. I submitted a request for more information expecting to receive something in the mail in a week or two. Within an hour of my request, I was talking with someone from the company. That alone exemplifies client service."
After visiting the corporate offices, she said she was intrigued by the energy and excitement of the company's leadership and by her fellow franchisees who also were interested in creating local jobs and investing in their respective communities.
"It was apparent that they cared, and that makes all the difference," she said. "I learned that in one of my earliest jobs. At 17, I was a waitress and I wasn't very good, yet my tips kept going up. I asked one of the older waitresses why, and she said, 'It's simple. You care, and they know it.' I've never forgotten that. Business can be taught, skills can be improved, but passion and caring can only be demonstrated. People know it when they see it. And it's what sold me on Fresh Coat."
Bernie Brozek, president of Fresh Coat, said Boyd's knowledge, experience and commitment to caring for clients will serve her well in her new enterprise.
"Like our other owners, she knows that running a painting company isn't just about painting," he said. "It's about the client's experience from the initial phone call throughout the project and into the follow-up. With our structure, clients get the best of all those involved. Our owners promote and grow the business while our experienced painters – employees, not subcontractors – provide professional, quality services."
For Boyd, the business model made sense for her, her employees and her clients. "I was blessed to find an exceptional man to serve as my operations manager. Bob Heiney has worked as a painter for 30 years and is well-respected in Lancaster County. He was born and raised here, so he has a commitment to his community. I respect his work and I appreciate the skills of a quality tradesman. He's a true artisan, and I can see him being a mentor to younger painters and helping them develop their skills."
She added that clients benefit, too, because most people have become numb, even expecting the worst, when it comes to service. "You call 10 places, leave a bunch of messages, only five call you back, and only three actually show up."
With Fresh Coat, someone answers the phone 24 hours a day, she said. "Having a live voice, not a voicemail, is wonderful. With shift work, some people need to call outside normal business hours."
That's just one of the benefits of being part of the national operation, she said.
"Fresh Coat is growing by leaps and bounds," she said. "That taps into a wealth of information. They've created something unique, and I see them continuing to innovate to benefit clients. A lot of good ideas come from franchisees. I see them contributing, and corporate listening. What better way to grow a company. Give great client service, show that you care, and success will follow."
To learn more about Fresh Coat Painters of Lancaster or to schedule an on-site quote for residential or commercial projects in Lancaster, Lititz, East Petersburg, Landisville, Leola and their surrounding Pennsylvania communities , call 717-826-0108 or visit http://www.freshcoatlancaster.com.
Founded in 2004 in Cincinnati, Ohio, Fresh Coat Painters provides services for residential, commercial and governmental customers in more than 100 major cities across the United States and Canada. Fresh Coat is part of the International Franchise Association, the Small Business Association's Franchise Registry, VetFran and Minority Fran. For more information, call 866-708-9355 or visit http://www.freshcoatpainters.com.