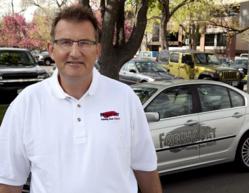 I wanted to operate a business that has a long-term future .... With Fresh Coat, I knew that the jobs would never be outsourced overseas, and I knew that people would always be in need of these services.
Cincinnati, Ohio (PRWEB) April 17, 2012
Fresh Coat Painters has expanded operations in Colorado with the launch of Fred Crowe's franchise serving Fort Collins, Loveland, Greeley and other communities in Larimer County and northern Weld County.
After 25 years as a management consultant, Crowe understands the risks and rewards of owning a business. He decided he was ready to use his knowledge and experience in his own small business. In researching industries, he was attracted to Fresh Coat because its principles were similar to his own and it offered a proven system for success.
"I prefer to be my own boss, and I wanted to operate a business that has a long-term future for myself, my employees and my clients," he said. "With Fresh Coat, I knew that the jobs would never be outsourced overseas, and I knew that people would always be in need of these services."
Bernie Brozek, president of Fresh Coat, said Crowe's business acumen will serve him well.
"He knows first-hand the solid business practices that help all businesses succeed," Brozek said. "He understands the importance of proper hiring, effective marketing and quality client service. With Fresh Coat, we help him and his fellow owners by providing the tools that enhance those three areas."
Indeed the business model sold Crowe. "After talking with other franchisees and attending training, I could see that this offered a well-defined, proven system for launch, development and growth. There would be no need to reinvent the wheel."
By putting the focus on professionalism, Brozek said Fresh Coat has "changed the image" of the painting industry.
"Our structure ensures clients get the best skills of all involved," he said. "Our owners promote and grow the business while client service managers and experienced painters – employees, not subcontractors – provide the best in quality and service for clients. These services are always in demand, but too often the industry has been tarnished by too many fly-by-night operators."
Crowe said his personal experience supported that view.
"I've found many service companies, even some well-established companies, to be not really very professional," he said. "People who need these services, though, actually may prefer not to do the work themselves. They're always asking around for recommendations, and my hope is that Fresh Coat will become the name that tops people's lists."
Crowe said that the structure has allowed him to attract quality job applicants.
"The biggest issue I've found is that painters often have worked with companies that don't provide them with consistent work," he said. "Because my role is to promote the business and find new opportunities, they can focus on using their skills and experience to give clients exceptional service. As employees, they receive benefits, vacations, and other perks that give them better job security. And that leads to significant loyalty to the company, thus reducing employee turnover."
By being part of a national franchise operation, Crowe also is able to provide services to clients that would otherwise be out of his reach. Among those are a 24/7 call center, the proprietary EPIC estimating program, Paint Now-Pay Later same-as-cash financing, Automatic Touch-Up for businesses, and fund-raising opportunities for charities.
"These services foster a professional experience for all clients," Crowe said. "It's not just one specific thing that makes people know that they're going to have a good experience."
The 24/7 call center allows clients to reach a live person anytime, he noted. The EPIC system uses the latest technology to provide clients with an onsite quote, not an estimate, for their project complete with accurate schedules and prices including quality paint. And, with the Paint Now-Pay Later program, clients can get projects done when they want and spread out the payment.
"Our owners understand that running a painting company isn't just about the painting," Brozek said. "It's about the client's entire experience from that initial phone call through job completion and the follow-up. It's like our motto says, it really is about 'Painting Done Right.'"
To learn more or to schedule an on-site quote for residential or commercial projects in Fort Collins, Loveland, Greeley and other Colorado communities in Larimer County and northern Weld County, call 970-744-4018 or visit http://www.freshcoatnortherncolorado.com.
Founded in 2004 in Cincinnati, Ohio, Fresh Coat Painters provides services for residential, commercial and governmental customers in more than 100 major cities across the United States and Canada. Fresh Coat is part of the International Franchise Association, the Small Business Association's Franchise Registry, VetFran and Minority Fran. For more information, call 866-708-9355 or visit http://www.freshcoatpainters.com.