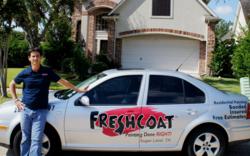 Clients want to know that they can call on a reliable company and not have to just pick a name off the web and hope for the best.
Cincinnati, OH (PRWEB) September 24, 2012
As the owner of a construction and remodeling business, Carlos De La Luz Aranda had lots of options for his new enterprise when he emigrated from Mexico to the United States. After considering more than 20 different franchises, he chose to open Fresh Coat Painting of Sugar Land, Texas, to serve it and its surrounding communities.
"I was looking for something similar to what I had been doing, so I investigated extensively," he said. "What impressed me most was the Fresh Coat commitment to client service. That was the biggest factor for me. I wanted a franchise that would reflect my values and be something my family could stand behind."
Joining De La Luz Aranda in day-to-day operations will be his stepdaughter, Dona Silva, who also appreciated the focus on service. "What we found when we investigated was that a lot of people in the service industry don't focus on service. When we found Fresh Coat, we could see that its priority was the same as ours."
Bernie Brozek, president of Fresh Coat, said the company's business model does set it apart.
"We are striving to alter the image of the industry," he said. "Its reputation has been tarnished because of too many fly-by-night operators. That's hurt the image of owners and the reputations of painters. And it's lowered the trust levels of potential clients who often complain of no-shows, unfinished projects or sloppy work. With our structure, the clients get the best skills of all involved from their first phone call throughout the project and into the follow-up."
De La Luz Aranda said he had operated a successful business in Mexico for more than 14 years, and his experience showed that by offering consistent, quality work, clients not only rehired you, they also recommended you to others.
"Moving to a new country, I needed to learn all the laws and regulations here," he said. "But my experience helped in the training because I could attest to the importance of repeat business. I also liked that Fresh Coat hires its employees and doesn't use subcontractors. It's much better to hire your workers, so that you know their work and they know they're working with you to build success."
Silva said painters value a system where they're part of the team.
"It's about trust," she said. "Clients want to know that they can call on a reliable company and not have to just pick a name off the web and hope for the best. Painters want to know that they'll have steady work and a secure position where they can build better futures for themselves and their families."
Being bilingual, De La Luz Aranda and Silva weighed the importance of having both English- and Spanish-speaking painters to ensure all their clients felt comfortable.
"We were a little worried about advertising in Spanish language publications," Silva said. "We thought we would find a lot of undocumented workers. But everyone who applied was a U.S. citizen."
De La Luz Aranda interviewed several painters who had more than 15 years' experience, including one man who had owned his own company. "He said it was just too hard to run the business. He preferred the painting, and he also knows about flooring, carpeting and a little bit of everything else."
Brozek said De La Luz Aranda's experience is not unusual.
"Many excellent painters just want to paint without having to deal with sales and marketing," he said. "With our system, owners promote and grow the businesses while managers and painters complete quality work on time and on budget."
Brozek said the company's focus is on helping owners succeed. "Carlos comes to us with extensive business experience, so our goal is to enhance that knowledge and support him with top-notch marketing, training and resource materials including access to our 24/7 call center, proprietary EPIC estimating system, Paint Now-Pay Later same-as-cash financing, Automatic Touch-Up for businesses, and fund-raising opportunities for charities."
Silva said being part of the franchise system has helped with the company's launch.
"We're not starting from zero," she said. "We already have a logo, a brand and brochures. And with six other Texas franchises, it's like having backup. It's great to be able to ask questions of other franchise owners because whatever we're facing, they've already been through it."
"With the website and the call center, clients can get answers quickly," she added. "That goes a long way in promoting our image as professionals and ensuring clients are treated well from the start."
To learn more about Fresh Coat Painters of Sugar Land, Texas, or to schedule an on-site quote for residential or commercial projects in Sugar Land, Missouri City, Katy, Richmond, Rosenberg, Stafford, Fulshear, Arcola, Sienna Plantation or their surrounding communities , call 281-394-4497 or visit http://www.freshcoatsugarland.com.
Founded in 2004 in Cincinnati, Ohio, Fresh Coat Painters provides services for residential, commercial and governmental customers in more than 100 major cities across the United States and Canada. Fresh Coat is part of the International Franchise Association, the Small Business Association's Franchise Registry, VetFran and Minority Fran. For more information, call 866-708-9355 or visit http://www.freshcoatpainters.com.