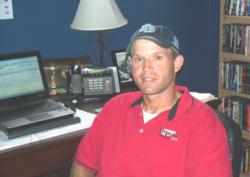 We take the time to do it right. We vacuum the carpets, mop the floors, whatever, because we don't want the property owner to walk into a beautifully painted room with a mess on the floor to clean up.
Cincinnati, Ohio (PRWEB) September 06, 2011
When Ross Childers launched his Fresh Coat Painters franchise in Tampa Bay, Fla., last October, he anticipated it would take years to see growth and success. Instead his operation is "running full steam" with a team of six working full-time to complete jobs booked a month in advance.
"I was surprised that it took off as fast as it did," Childers said. "And 70 to 80 percent of our business comes from our clients' referrals to family and friends. I started out with just two people, then quickly hired a manager, started adding more staff. Now my painters are working 40-hour weeks every week, and I'll likely be adding two more painters before I mark my one-year anniversary."
Bernie Brozek, president of Fresh Coat, said Childers' experience shows the need for quality painters who act with professionalism.
"Our owners understand that running a painting business isn't about painting," he said. "It's about the client's entire experience from that initial call to the job completion and the follow-through. It's about building relationships with clients, so that they feel comfortable calling again or making a referral."
Childers said his clients acknowledged that his appearance at the first appointment made a marked impression.
"
They've told me that they requested quotes from a few companies," he said. "Others sometimes would show up from a previous job wearing the paint on their T-shirts and jeans, look around the space, and throw out an estimate.
"I arrive wearing a clean shirt and pressed pants. I discuss their project and plans, listen to their concerns, present options, maybe offer some suggestions. Because I take accurate measurements, I'm able to provide them with an accurate quote. We're not the cheapest or certainly not the most expensive. It's our level of professionalism that impresses them, and we often get the job because of it."
After the job begins, that professionalism continues with the actions of his team.
"I run a pretty tight ship," Childers said. "I hire workers who'll show up on time every time, put in the full 40-hour week, and do quality work. I do background checks on everyone, and they're all U.S. citizens, which is important to people down here. All of them are experienced painters, and any one of them could answer our client's questions. Their knowledge and skill show."
After the job is finished, the workers clean up after themselves and leave the site spotless. "Clients are shocked at how great it looks," Childers said. "We take the time to do it right. We vacuum the carpets, mop the floors, whatever, because we don't want the property owner to walk into a beautifully painted room with a mess on the floor to clean up."
Because the Florida real estate has been hit hard in recent years, Childers said friends were a bit surprised when he decided to pursue his own business in a "down" economy. Yet Childers saw it as a logical transition when his previous employer was slammed by the economy. With a degree in construction management and experience as a manager for various businesses, he said he was ready to start his own operation. But he didn't want to go it alone.
"I looked at buying a business, but owners took the approach of 'here's the equipment, give me my check' followed by a casual 'good luck' and a wave," he said. "I knew I needed guidance, so I started looking at franchises. What I found was that a lot of them were the same way. They just wanted to sell me a business, take my money, pat me on the back, and wish me luck.
"Fresh Coat was different from the start. They answered every question, never tried to push me into anything. I felt comfortable from the start."
Since his purchase, he has continued to receive support not only from the corporate offices, but also from his fellow franchisees. "I'm a phone call away from the solution to any problem I've got," he said.
Childers anticipates continued success because of the signs of a rebounding economy in Florida, such as his recent affiliation with a real estate investor.
"We were hired to do a total interior rehab on a house in a gated community," he said. "We went in for three days repairing the walls and making some other fixes before we actually started painting. We took the time to do the job right, and the neighbors started commenting on how great the place looked.
"It turns out that the house had been empty for a while after being in foreclosure. The new owner bought it and about 12 to 14 other foreclosed houses. My team hadn't even finished this first house when the owner came around, checked out what we had done, then nodded and said we had the rest of those houses, too."
To learn more about Fresh Coat of Tampa or to schedule a free, on-site consultation for residential or commercial projects throughout Tampa and its surrounding communities, call Childers at 813-406-5255 or visit http://www.freshcoattampabay.com.
Founded in 2004 in Cincinnati, Ohio, Fresh Coat Painters provides services for residential, commercial and governmental customers in more than 100 major cities across the United States and Canada. Fresh Coat is part of the International Franchise Association, the Small Business Association's Franchise Registry, VetFran and Minority Fran. For more information, call 866-708-9355 or visit http://www.freshcoatpainters.com.
###