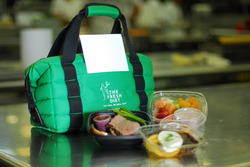 It seemed like the perfect time to do this, particularly as the First Lady has made obesity - especially among our children, a key issue during her tenure in the White House
Washington, DC (PRWEB) February 25, 2010
Celebrity gourmet diet delivery service, The Fresh Diet, is now serving up its tasty nutritious meals to doorsteps in D.C. neighborhoods.
Endorsed by a long roster of stars from its spokesperson, Carne Wilson to the View's Sherri Shepherd, The Fresh Diet provides clients with fresh, daily hand-delivered gourmet meals, which unlike other diets are not frozen, freeze-dried or vacuum-packed.
The five-year-old company, which services clients in over 10 major cities, opted to add the Capital city to its register earlier this year in light of First Lady Michelle Obama's declaration of war on childhood obesity.
"It seemed like the perfect time to do this, particularly as the First Lady has made obesity - especially among our children, a key issue during her tenure in the White House," says Zalmi Duchman, CEO of The Fresh Diet.
"In the last year, we have noticed that a lot of our clients have enrolled their teen daughters and sons in the program so that they can get healthy as a family," Duchman said. "While some of the teens are overweight, many families are during it, simply for their well being."
Duchman and his business partner, Le Cordon-Bleu-trained chef, Yosef Schwartz, are turning the diet industry on its taste buds, catapulting the once small Florida business into one of the fastest growing companies in the country that can compete with industry giants such as Jenny Craig.
As a result of their ingenuity in a tight marketplace, The Fresh Diet has into a corporate operation that service over 1000 daily clients in nearly a dozen major markets in the US.
The Fresh Diet is a system of nutritionally balanced and delicious meals that are made fresh and hand delivered to your door daily. Headquartered in Southern Florida since 2005, The Fresh Diet -- http://www.thefreshdiet.com -- now serves clients daily in Boston, Philadelphia, New York City Tri-State area, Washington, D.C., Los Angeles, San Diego, Chicago, Indianapolis, South and South West Florida from company-operated kitchens in Chicago, Los Angeles, Miami and New York.
# # #