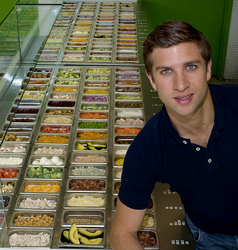 Los Angeles, CA (PRWEB) May 3, 2010
Been to pancake heaven, done the chicken bun, don't miss Freshii's new atmospheric twist. Salad, meet air.
Just days after the public debuts of KFC's Double Down, IHOP's Pancake Stacker, and BK's Mimosa, Freshii introduces a new menu fixture - the Light as Air Salad. Slide the Mimosas aside and gulp up a super size serving of water with extra thick straw or eat it with a spoon, as others like to do.
Freshii's Airiest Menu Item Yet
Freshii's Light as Air marries fat-free, zero-calorie lettuce filled with organically grown air, all surrounded by a double dose rainbow of zero-calorie oxygen molecules. Light as Air is available solo or in a combo meal, which marries hydrogen and an extra helping of oxygen to the mix.
Health Facts on Freshii's Light as Air
Test markets have shown the new Light as Air contains a non-existent 0 calories, a stark contrast to fat-stacked meals available in the fast food industry today. The Light as Air is also available in a double-tossed version, which checks in at an impressive -15 calories. For more extraordinary nutrition facts, visit http://www.freshii.com/menu.
And yes, Freshii's new salad can be life altering. One combo boasts an additional decade of life expectancy, or cancels out the 10 years lost from downing a Double Down and Pancake Stacker.
Stay tuned as Freshii pioneers plans for the run-thru window.
"Obesity is an endemic crisis in America, which is wholly preventable; restaurants must be socially responsible and arm customers with health-conscious choices," said Freshii founder and CEO Matthew Corrin. "It's disappointing when the food industry concocts +1000 calorie items for their menus, with the sole purpose of extorting America's love of more is more. At Freshii, we offer more too - more fresh customizable items that leave our customers energized, light, and feeling fantastic, instead of weighed down by one of the many diseases caused by unhealthy eating choices."
About Freshii
Freshii's new store openings have been met by massive lines of people looking to satisfy their craving for a nutritious meal on the go. Freshii's menu offers build-your-own salads, burritos, wraps, rice bowls, yogurts and soups in a "build your own" format, personalized with ingredients from three categories: light - super low in fat, but high in fiber, essential vitamins, minerals, antioxidants and lean protein, balanced - essential fats, slow-burning carbs, good oils and high protein, and classic - great flavors to be enjoyed in moderation. Visit Freshii's Web site to create a virtual salad, wrap, rice bowl or soup and instantly see the nutritional value of your ingredients. Since 2005, Freshii has achieved recognition as the perfect place for convenient, healthy and delicious meals and snacks served fast enough to fit into anyone's busy schedule. Freshii's hip, friendly and environmentally sustainable atmosphere has brought the concept fast popularity and triggered its nationwide expansion across North America with 300 locations open and under development in over 18 cities around the world – including Dubai and Vienna.
# # #