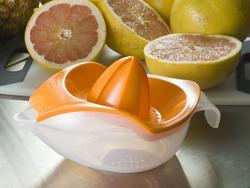 Spokane, WA (Vocus) May 7, 2010
Few things can kick taste buds into overdrive faster than the words, "Freshly Squeezed." Now Zak Designs is giving people everywhere the ability to add that phrase to their everyday vocabulary without having it take a toll on their hands.
The new Citrus countertop juicer from Zak is ergonomically designed counter to make it easier to get freshly squeezed juice from citrus fruits. The counter juicer's large size allows it to handle even the biggest grapefruit as easily as an orange, and the thick ridges on the juicer make it even easier to get the juice out of those larger fruits. It also features a non-skid base to keep it secure on the counter and a special lip that rests on the edge of a glass or bowl for clean, even pouring.
With the growing number of people focused on healthy eating, homemade juices have never been so popular. And with Zak's new Citrus countertop juicer, they've never been so easy to have.
See a demonstration here.
With offices in ten countries, Zak stays at the forefront of emerging fashion, color and design trends from around the world. By incorporating those styles into modern and innovative tabletop and kitchen prep collections, Zak continues to be recognized as a global authority on trend-focused housewares. More information about Zak is available at http://www.zak.com.
###