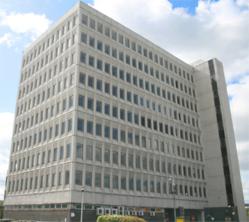 Bradford is a wonderful city, it's a beautiful place and I'm not surprised that so many dramas and TV programmes are filmed in the area.
(PRWEB UK) 2 May 2012
Affordable property developer, FreshStart Living's, student accommodation building in Bradford is being used for location filming for the second series of ITV series, DCI Banks.
Colonnade House Halls, the former Provident Financial headquarters on Sunbridge Road, Bradford, is used as the backdrop for outside the police station in the ITV drama DCI Banks, starring Stephen Tompkinson as the eponymous detective Chief Inspector Alan Banks.
The two story annexe building of Colonnade House Halls will also be used for internal shots in the six part series as it is home to the office of Chief Superintendent Ron McLaughlin (Nicholas Sidi).
The former office building which is currently being transformed in to student accommodation which is on track to be developed in to 223 en-suite student pods which will be completed in time for the start of the 2012 academic year in September.
The show is being made for ITV by Left Bank Pictures, the production company behind the film The Damned United as well as many other hit TV series. Filming began at locations across Yorkshire at the end of March and is scheduled to last for three months.
DCI Banks is based on the Inspector Banks novels by Peter Robinson. Series two of DCI Banks will consist of six 60 minute episodes which are due to air on ITV in autumn.
Charlie Cunningham, chief executive at FreshStart Living said:
"Bradford is a wonderful city, it's a beautiful place and I'm not surprised that so many dramas and TV programmes are filmed in the area."
"I'm a huge fan of DCI Banks and when they approached us to film at we were more than happy help out. We are all looking forward to spotting the fabulous Colonnade House Halls on TV in autumn and by then it will be filled with over 200 students, so no doubt they will all be thrilled to see their home made famous."
"All the students eager to move in for September shouldn't worry because construction won't be affected by the filming and everything is still on track for Colonnade to be completed by the start of the academic year."
Ben Hepworth, location manager on DCI Banks said:
"We chose to film some aspects of DCI Banks in Bradford because it's a great film friendly city and is really suited for our needs."
"Colonnade House Halls in particular was ideal for filming, both interior and exterior scenes. It's a shame we won't be able to use it for the next series as by then it'll be student accommodation."
The nine-storey building is currently being transformed into 223 en-suite student pods. Each storey will have 24 student pods with 13 rooms on the ground floor. The two-storey annexe building will house another 18 pods.
The individual student rooms will be centred around large, shared living spaces and kitchens to encourage a community feel where students can live, work and enjoy themselves in a safe and comfortable environment.
FreshStart Living is a student accommodation specialist and has successfully completed student developments in Manchester and Greenock, Scotland to date.