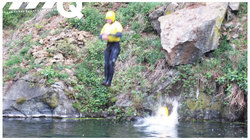 Freshwater coasteering is an exhilarating thing to do in Cornwall - and Adrenalin Quarry is one of the only places in Europe where it can be done.
(PRWeb UK) June 24, 2010
Adrenalin Quarry in Cornwall (http://www.adrenalinquarry.co.uk), has just launched freshwater coasteering, one of its most adrenalin inducing sports yet, with the opportunity to try the UK's highest supervised jump: The Tombstone... a 63 foot heart stopper...
Coasteering, also known as Quarry Jumping, is more known for being a popular coastal sport but in Adrenalin Quarry - the UK's first inland coasteering environment - coasteering combines wild swimming, lake diving, wildlife exploration, traversing and tombstoning all rolled in to one big adrenalin rush of a session.
Coasteerers take on a series of cliff jumps from the timid to the insane. If you go all the way, you'll face one of the biggest decisions of your life. Will you conquer The Tombstone?
The tombstone
The uk's highest supervised jump: 19m, 63ft & reassuringly optional
This is challenge by choice: jump only as high as you want. Trained coasteering instructors guide you all the way. The aim: to have fun. That's why Quarry Jumping is great for families but also as daunting as you dare.
"Quarry Jumping has all the excitement of coasteering but none of the drawbacks: no cancellations, no hanging around waiting for the tide to change, no overcrowding, no hassle," says Adrenalin Quarry's Managing Director, Will Sneyd.
Coasteering costs £40 per person, individuals and groups are catered for, minimum age is 10. All Participants must be able to swim 50M unaided
Journalists Notes:
Adrenalin Quarry is also home to "The Zip" Britain's longest zipwire, which regulary features on the Times Top 100 Things to Do lists.
Adrenalin Quarry has also featured on The Gadget Show and appeared at Gadget Show Live.
ADRENALIN QUARRY, Lower Clicker Road. Menheniot, Near Liskeard, Cornwall PL14 3PJ
Tel: 01579 308 204
###