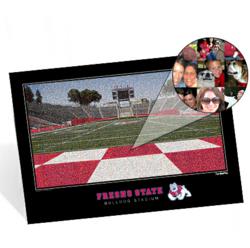 Northfield, OH (PRWEB) September 04, 2012
Fresno State Athletics and Fan Mosaics are teaming up for an inclusive event that pays tribute to the Bulldogs' proud tradition of touchdowns, tackles and triumphs.
Fan Mosaics will use photos submitted by Bulldog fans to re-create an image of Bulldog Stadium. This photo mosaic will immortalize Fresno State alumni as a part of their alma mater forever.
"Our students, alumni and community maintain such strong ties with Fresno State," said Paul Ladwig, Fresno State's Senior Associate Athletics Director for External Relations. "We wanted to celebrate that bond of representing the Valley, and bringing the Red Wave together in a photo of Bulldog Stadium is a perfect way to do it."
Bulldog fans can upload their photo at no cost for inclusion in the officially licensed Fresno State Fan Mosaic at http://www.fanmosaics.com/FresnoState through Oct. 7. They also will have the opportunity to own the high-quality 24" x 36" print, which is designed to be framed and displayed as artwork.
"The Bulldog football team makes history every year," says Brian Doskocil, Fan Mosaics' director of sales and marketing. "We're giving Bulldog fans a chance to join them in the record books with this commemorative piece of Red and Blue pride."
About Fan Mosaics
Northfield, Ohio-based Fan Mosaics, LLC, is the bridge that connects fans and stars. The company's officially licensed celebrity photo mosaics—composed entirely of fan-submitted images—are a unique and lasting outlet for fans' enthusiasm and loyalty. Entertainers in all industries choose Fan Mosaics to thank fans for their dedication, and charities partner with Fan Mosaics to raise funds for their worthwhile causes. Visit http://www.fanmosaics.com to view completed and current projects and to learn more about the Fan Mosaics creation process.