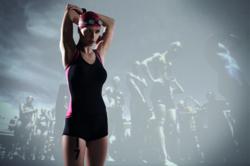 we're very excited to be the first swimwear brand to have teamed up with the SensitivEcoSystem® programme
Desborough, Northamptonshire (PRWEB) January 27, 2012
Sportswear brand Freya Active has launched a range of swimwear made from Sensitive® Life Soft – a material which contributes to rainforest conservation. The new range of swimwear complements Freya Active's existing collection of sportswear and sports bras.
Not only does Freya Active swimwear support consumers during exercise in water but due to the introduction of Sensitive® Life Soft it also now means they are protecting wildlife and the environment in the process. Sensitive® Life Soft is part of the SensitivEcoSystem® range by Eurojersey, a scheme that works with the World Land Trust to protect natural habitats around the planet. World Land Trust is a globally recognised not-for-profit organisation dedicated to saving the rainforest and its wildlife, they provide funds for partner organisations, enabling them to purchase land and establish permanent, stable wildlife habitats.
For every Freya Active swimming costume or tankini set made, half-a-metre of Atlantic rainforest is saved. Presently, there is only 7% of this valuable rainforest remaining, but it acts as home to a number of endangered and nearly threatened species, including the Jaguar and more than 200 species of fish.
Ann-Marie Manley, Head of Marketing at Freya explained how inspired Freya are by this innovative new partnership: "As the UK's largest lingerie and swimwear manufacturer and designer, we're very excited to be the first swimwear brand to have teamed up with the SensitivEcoSystem® programme."
In addition to its environmental benefits, the swim range also offers great comfort. The soft inner cups made are from rigid simplex and based on Freya Active's sports bra designs. The powernet back wings provide additional support and anchorage; while the Sensitive® Life Soft fabric is quick-drying and chlorine resistant. The swimsuit comes in sizes 30C up to 40H, while the tankini is available up to a 38H, with a matching short from XS to XL.
Freya offers a wide range of sportswear up to an H cup and swimwear up to a JJ cup. For more information about Freya please visit http://www.freyalingerie.com or email press(at)eveden(dot)com
# # #