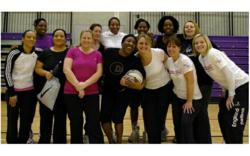 We've launched the get 2,012 women Back to Netball in 2012 campaign to try and win women's love of sport back. It's about the only sport which women haven't dropped and there is a reason for that.
Desborough, Northamptonshire (PRWEB) June 22, 2012
Freya Active is a sister brand of Freya Lingerie and this new initiative comes as a response to research carried out by Sport England which suggests that over 338,000 UK women no longer play any sport at all.
Despite the fact that Britain is hosting the largest sporting occasion it has ever experienced, it appears many women in the UK have lost their sporting spirit. The last three years have seen a drop in the number of women participating in sports such as athletics, hockey, running and tennis.
Research reveals that confidence is a key factor as many women doubt their ability to play sports well. However, simply not being aware of sporting opportunities locally can be a barrier too.
Additionally, some women have suggested they struggle to afford the cost and time needed to play even 30 minutes of sports a few times a week.
Interestingly, one of the only sports women have remained loyal to in the UK is netball. With this in mind, Freya Active has launched a nationwide campaign to re-engage women with sport, and get 2,012 women 'Back to Netball' in 2012.
According to England Netball, the sport has seen a 15% rise in women taking part over the past three years. The Back to Netball scheme provides a gentle reintroduction for women of all ages. The programme is perfect for those looking to get fit whilst avoiding high gym fees – with flexible hourly sessions from as little as £2.
Freya Active will also be supporting England Netball's Back to Netball 2012 Road Show - promoting the sport across the country at a number of different regional Olympic events as well as the Hyde Park and Victoria Park London Live events. Full details of all the Back to Netball sessions can be found at http://www.englandnetball.co.uk/my-game/back-to-netball and [Video] http://www.youtube.com/watch?v=Mi3YPLb7WZc&list=UUoDh9OftfdNIz7InTgWKKUg&index=4&feature=plcp
Ann Marie Manley, from Freya Active said, "With so much excitement building up around sport this year, it is surprising that so many women have stopped playing or taking part in sport. We've launched the get 2,012 women Back to Netball in 2012 campaign to try and win women's love of sport back. It's about the only sport which women haven't dropped and there is a reason for that."
Joanna Adams from England Netball said, "Netball is fun and energetic and is the perfect sport to pick up quickly again. People don't realise how fit netball keeps you, you've got to be incredibly quick and just one hour burns off a lot of calories."
Throwing and shooting during netball helps to strengthen biceps and triceps to create more toned and healthy-looking arms. Meanwhile, running and jumping during netball uses a number of leg muscles, working quadriceps, hamstrings and calf muscles to create more slender-looking legs.
About Freya Active
Freya Active offers a wide range of sports bras up to an H cup. They are a division of Freya lingerie, who creates a wide number of lingerie, swimwear and sports bra styles up to a K cup. For more information about Freya Active please visit http://www.freyaactive.com or email press(at)eveden(dot)com