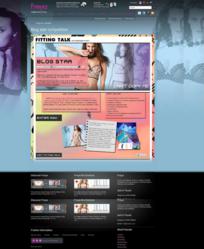 Fans have until Sunday 15th July 2012 to enter Blog Star 2. Freya will then announce a short list of finalists on Tuesday 17th July 2012.
Desborough, Northamptonshire (PRWEB) July 13, 2012
Freya lingerie's Blog Star 2 competition is open to anyone from keen bloggers to lingerie and fashion enthusiasts who may never have considered blogging before. The winner will join the 'Fitting Talk' panel where the Freya bloggers discuss a wide variety of topics relating to underwear, fashion, style and feeling good.
This year's competition tests Freya fans' creativity, style and trend interpretations in creating a potential blog post. Contenders are asked to download the Freya Autumn/Winter 2012 brochure, select their favourite new lingerie collection and write a piece about the trend they think it embraces. Fans then complete their entry with a photo or mood board supporting their piece.
Freya's first Blog Star competition was launched through Facebook last year. It received an overwhelming number of entries and fans were asked to chose the overall winner. In the end, the prize went to mummy blogger Kerry Farrow.
Since launching the Freya blog, Freya has been overwhelmed by the number of readers checking to see the latest news and views. To date, the blog has seen 35,000 page views and 15,000 visits from countries all over the world. Freya hopes its Blog Star 2 competition will appeal to a wide variety of people that love life, lingerie and fashion, as well as appealing to anyone that is inspired to share their favourite topics for Freya.
Fans have until Sunday 15th July to enter Blog Star 2 and Freya will then announce a shortlist of finalists on 17th July. Freya's new Blog Star will be crowned in early August, which will also see the launch of Freya's glamorous new-look blog.
As well becoming a regular blogger, the winner will receive a number of other prizes. These include a year's supply of Freya lingerie and swimwear, a digital camera, plus major fashion event tickets. All to help provide plenty of material for the Blog Star to talk about over the next year of posts.
About Freya
Freya create lingerie, loungewear, swimwear and sports bras especially designed to offer fit and support for women with larger bust sizes. Their range is available up to a K cup and includes balcony, plunge and strapless bras. Based in Northamptonshire, UK, Freya is part of the global Eveden Group, home to a number of lingerie and swimwear brands specialising in larger cup sizes. For more information about Freya please visit freya.com or email press(at)freya(dot)com