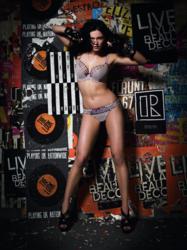 We are thrilled with the success our collections have had over the Valentine's period. We saw record sales of Beau from Freya, which was a real hit with many of our premium stockists.
Desborough, Northamptonshire (PRWEB) February 21, 2012
One of the most popular romantic ranges sold this Valentine's Day included the Beau collection from Freya. Freya's Beau collection features a beautiful plunge bra and choice of matching brief, short or thong with pretty bow detail in a shade of dusky pink. The Beau plunge bra is available in a wide range of sizes, from a 28 to a 38-inch back and B to H cup.
In addition to Beau, there was also interest in Freya's Ashlee collection. The Ashlee collection has derived from one of Freya's most enduring favourites, the Deco range. Ashlee features a flattering low front plunge, meanwhile the smooth seam-free cups and internal push-up pads help to create a smooth, feminine shape with plenty of support. Ashlee is perfect for wearing under close fitting clothing and is available up to an F cup.
One other Valentine's collection which saw a rise in sales was Veronique, an indulgent and loveable collection from luxury lingerie label Fauve. The Fauve Veronique collection boasts a padded half-cup bra with Swiss embroidery and a delicate fishnet overlay in oyster satin. To top the range off beautifully Veronique features Guipure lace and satin drop detail. All available from a 30 to 38-inch back and B to G cup. Other items in the Veronique range include a show stopping corset, with boning designed to enhance the contouring of the body and cleavage, which can be complemented by a matching brief, short or thong.
Nigel Addison, UK and Eire Sales Director at Eveden, said: We are thrilled with the success our collections have had over the Valentine's period. We saw record sales of Beau from Freya, which was a real hit with many of our premium stockists. Veronique in Oyster by Fauve also proved a hit this Valentine's, the range is very sophisticated and the corset is a truly eye catching piece!"
About Eveden
Eveden specialise in designing and manufacturing high quality, fashion-conscious lingerie and bra-sized swimwear from an A to K cup. The Eveden portfolio includes brands Freya, Fantasie, Fauve, Elomi, Goddess and Huit. For more information about Eveden please visit eveden.com or email press(at)eveden(dot)com
###