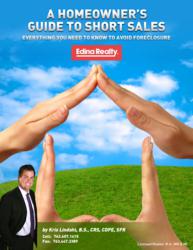 Kris Lindahl, says, "Now with my new book I have given people the advantage of getting the short sale answers they need, when they need them."
Fridley, MN. (PRWEB) August 31, 2012
Kris Lindahl has been busy producing a short sale video series, that will cover how the short sale process is handled by different banks, so homeowners will have a better understanding of what will be required. Kris Lindahl has successfully combined the technology that people want to use today, with the complex world of real estate short sales, which is the process of selling a home for less than the mortgage that is owed on the property. The bank will typically forgive the balance of the debt.
The first video in the series is about the Wells Fargo Short Sale Process. The Bank of America Short Sale Process video is the second in the series of video tutorials being released by a top Fridley Short Sale Agent Kris Lindahl. Kris provides easy to follow tips and resources that are needed for each particular bank.
"The "Wells Fargo Short Sale Process" video and the "Bank of America Short Sale Process" video have been very well received, and people continually calling and email asking about additional videos in the series," Kris Lindahl remarks. Kris continues, "I am producing and releasing the videos as quickly as possible, because I am very busy helping homeowners try to get their homes through the short sale process before the expiration of the 2007 Mortgage Debt Relief Act at the end of 2012."
Kris Lindahl, B.S., CRS, CDPE, SFR says, "Now with my new book I have given people the advantage of getting the short sale answers they need, when they need them." "There is no other book of its kind, that is why the book will be such a great help to homeowners," the top Minnesota Short Sale Agent Kris Lindahl says. Download a copy of Kris Lindahl's new "Homeowners Guide To Short Sales" book by visiting the website HomeOwnersGuideToShortSales.com, which is full of information on the short sale process.
In addition to Kris Lindahl's short sale video series, Kris has released multiple online websites and resources so people can get the short sale answers they are looking for. Kris Lindahl a top Fridley Short Sale Agent explains, "We are also working with Wisconsin residents helping them get Wisconsin short sale loans approved, so for homeowners that live in Minnesota or Wisconsin it is imperative that they contact us as soon as possible while there is still time, so we can get the short sale approved before the expiration of the 2007 Mortgage Debt Relief Act."