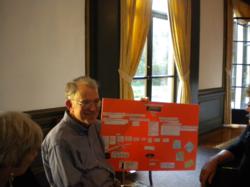 One of the most powerful aspects of the course on participants was seeing evidence that there are many ways to view retirement. It's not a one-size-fits-all experience
Wayne, PA (PRWEB) July 07, 2011
Friends Life Care recently completed its Retirement Transition Enrichment Workshop, one of a series of workshops that are part of their VigR™ Program that focuses on staving off the effects of chronological aging. The Real Meaning in Retirement Transition workshop offered by Friends Life Care created a new mindset about retirement for attendees. The purpose of the course was to shift participants' views from retirement as something that just happens to them, to a view of retirement as something that can be consciously designed to be meaningful and energizing. Through a series of carefully selected activities, the attendees explored new perspectives, generated powerful insights, and discovered the exciting potential that awaits them in their retirement years.
The Real Meaning in Retirement Transition workshop was four weeks long and helped attendees assess five critical emotional aspects of retirement. The workshop also pushed attendees to discover their own personal motivation for piloting their way through their retirement years. "One of the most powerful aspects of the course on attendees was seeing evidence that there are many ways to view retirement. It's not a one-size-fits-all experience," said Paul Hilt, coordinator of the workshop and retirement coach.
Hilt also offered one-on-one advice to interested attendees. This insight frees attendees to imagine the possibilities. It gives hope that retirement does not have to just be a winding down, but a precious opportunity to expand one's horizons. The workshop helped attendees find their retirement path, so they spend more time on the path rather than searching for it.
Carol A. Barbour, President of Friends Life Care, anticipated attending the event as an observer and ended up engaging in the activities. Barbour stated, "This highly participatory class was nothing short of amazing participants were actively involved in identifying passions, values, core strengths, developing a retirement transition scenario and blueprint." One of the participants said it was the best six hours he'd ever spent in a class. Paul Hilt further mentioned, "The participants were amazed at the depth of meaning [one attendee] got from the activity."
Friends Life Care also presents other enrichment workshops such as Nutrition Myth Busters, Boost Your Resilience, Exercise: A Prescription for Vitality and Improving Sleep for Better Health. All of these workshops are a part of Friends Life Care's proprietary VigR™ program.
About Friends Life Care:
Friends Life Care offers a unique, affordable alternative or supplement to long-term care insurance and continuing care retirement communities. Designed to help individuals and couples remain at home and independent as they age, customizable membership plans from Friends Life Care help members protect their savings and prepare for the unexpected, while providing innovative options to help increase their vitality and longevity. Unlike long-term-care insurance, the Friends Life Care team of highly credentialed Care Coordinators arranges and supervises all the services you need. Members have no claim forms to file and no reimbursements to wait for. Friends Life Care spares members and their loved ones the enormous stress, cost and uncertainty of locating and managing reliable, qualified care on their own. The emphasis on prevention and attention to the whole person distinguishes Friends Life Care's philosophy toward independent aging.
Friends Life Care promotes holistic approaches to maintaining healthy, active living through its proprietary program, VigR™ (pronounced vigor)-a proactive research based offering created to help members strengthen and extend their mental and physical health and resilience. Non-members may also take part in some of the VigR program components on a fee-for-service basis.
For more information on the benefits of membership, informational seminars visit http://friendslifecare.org/index.aspx or on Facebook
Contact:
Amy Josef
215-628-8964
ajosef(at)friendslifecare(dot)org
###