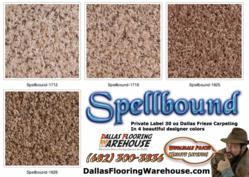 Dallas, TX (PRWEB) February 24, 2013
Dallas Flooring Warehouse unveils, Spellbound, their new wholesale direct 30 oz. frieze carpeting. Spellbound is available in four beautiful designer colors. Because of their massive buying power, Dallas flooring warehouse is able to private label manufacturer their own brands of carpeting. Through this private-label wholesale direct approach Dallas Flooring Warehouse provides top quality carpeting at a savings of 50% over traditional retail carpet stores and strip mall shops. Spellbound features a premium PET fiber, static control, a 10 year warranty and a lifetime stain warranty. At a cost of only $.79 per square foot this was a carpeting represents a breakthrough in savings for Dallas and Fort Worth area residents. It is also offered at $1.22 per square foot installed.
"Our Spellbound carpet is available in four beautiful top-selling designer colors. It's 30 oz. weight, premium PET fiber, and static control make it an amazing carpet that performs fantastically. In addition it also has a 10-year warranty and a lifetime stain warranty. Why pay more something to me till store when you can get it for half price at Dallas Flooring Warehouse. Give us a call at our Dallas discount carpet hotline at 682-300-3836.", Says Christopher Oliver, Dallas Flooring Warehouse spokesman.
Dallas flooring warehouse is the leading wholesale flooring Dallas discounter in the DFW Metroplex with a massive multimillion dollar on-site inventory and wholesale direct pricing they are dedicated to providing Dallas-Fort Worth residents with the best flooring products at the lowest possible prices. Their address is Dallas Flooring Warehouse 8717 Directors Row Dallas, TX 75247. For more information about Dallas Flooring Warehouse visit their website at dallasflooringwarehouse.com.