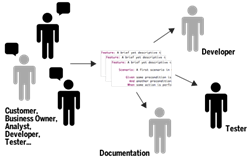 We are very excited to release a beta of Squish 6.0. The level of BDD support in Squish 6.0 goes beyond what we initially envisioned, and far beyond what's available in any other BDD framework today. -- Reginald Stadlbauer, froglogic co-founder & CEO
Hamburg, Germany (PRWEB) July 21, 2015
Squish 6.0 Features
BDD support built into the Squish IDE

Complete support for Feature Files written in Gherkin
Gherkin Code Completion
Automate & Execute BDD tests (scenarios) directly from the Squish IDE - Test step recording in any of Squish's supported scripting languages
Switch between Feature (BDD) and Implementation (Script) Files
Advanced Reporting

Unified BDD & Script Reporting
Color-coded execution details directly within BDD Feature Files - New modernized and comprehensive HTML reports
General

Updated all script interpreters to newer versions
GUI Coverage - An experimental feature for tracking UI coverage of tests (limited to Squish for Qt at this time)
Using BDD, stakeholders, managers, developers and testers alike communicate using a single business-readable language (see figure BDD and Communication)
Squish GUI Tester supports BDD & GUI test automation across several technologies, including the Qt, QML and QtQuick GUI toolkits, Java SWT/Eclipse RCP, Java AWT/Swing, JavaFX, Windows MFC, .NET WindowsForms and WPF, Mac OS X Carbon/Cocoa, iOS Cocoa Touch, Android, and Web/HTML5/AJAX/Flex.
Standing out above other GUI testing tools, Squish gives all users the ability to create and automate BDD tests from a single tool. By writing (or using existing) BDD scenarios in Gherkin, users can automate each step using a guided recording feature, or test engineers can author and record tests - all automated using any of the following non-proprietary scripting languages: JavaScript, Perl, Python, Tcl, and Ruby.
With extremely tight integration for each supported GUI technology, Squish gives testers unprecedented access to application internals (data items, controls, widgets, etc.), creating robust and stable GUI tests, all while maintaining a BDD layer in a business-readable language.
Squish, and its tests, are fully cross-platform, working on Windows, Linux/Unix, Mac OS X, embedded Linux, iOS, Android and several RTOSes. Learn More
Learn More & Evaluate Squish

About froglogic
froglogic GmbH is a software company based in Hamburg, Germany with additional offices in the USA with over 3,500 customers world-wide. froglogic is famous for its automated testing suite Squish with its flagship product Squish GUI Tester, the market-leading automated testing tool for GUI applications based on Qt, Java AWT/Swing, SWT/RCP and JavaFX, Mac OS X Carbon/Cocoa, Windows MFC, .NET and WPF, iOS Cocoa Touch, Android and for HTML/Ajax/Flex-based web applications running in a variety of web browsers. In addition, froglogic's offering includes the professional, cross-platform C and C++ Code Coverage tool Squish Coco.
"froglogic" and "Squish" are registered trademarks of froglogic GmbH. All other trademarks are the properties of their respective owners.