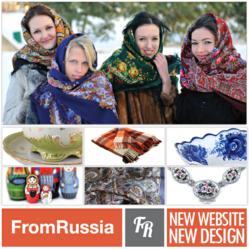 We are absolutely thrilled about the way the site turned out
Brooklyn, NY (PRWEB) May 01, 2013
As the new late April day dawned on the offices of Saint Petersburg Global Trade House, one could not help but see the enthusiasm on the faces of everyone there and feel the supreme excitement filling the air and permeating every room, as the new English language website was launched, replacing the previous, outdated one. With this release of the completely redesigned http://www.FromRussia.com, America's favorite (and also the largest and certainly among the most respected) Russian products retailer, is making a bold and daring statement that it is serious about going after the non-Russian speaking consumers.
The new website is based on the Magento platform, replacing the previous one that was developed years ago from scratch. This project lasted several months and culminated with the release of a new website that is completely different from the original site. "We are absolutely thrilled about the way the site turned out," says the head of IT and the lead on the project, Stanislav Pautov. "Because Magento is such a great and powerful platform, it not only makes our job of presenting our great merchandise the way it deserves to be showcased easier, but it also makes shopping on our website much quicker, a great deal more informative, and considerably more fun!"
According to Mr. Pautov, the main features that make Magento so powerful include its ability to connect and integrate with other applications, its multi store integration functions, its product showcase features, such as the ability to compare products and perform advanced searches, and its easy content management and update functions. He concluded, stating that, "Magento is among the most stable e-commerce platforms there are, with great security features, so we're confident that the new site will be a big hit with our customers."
"And why would it not be a big hit?" remarks Saint Petersburg's manager Mikhail Kholodov. "We already offer an unmatched selection of merchandise from Russia, bringing the most unique and the widest product mix across all our competitors to the North American market. Now, we have a top-notch website that does justice to our amazing merchandise. Moreover, choosing a platform was not a very difficult decision. Remember, what John Dillinger once said, when asked about why he robbed banks? He said, 'Because that's where the money is.' So it is the same with Magento, with many large companies choosing it over many of its competitors, essentially showing where the interest and the money is, when it comes to e-commerce. This list of companies includes Nike Australia's Facebook store, Office Max, Franklin Sports, and many others. So our competitors should definitely watch out, as our new website will ensure that we not only retain our leadership position in the market, but actually strengthen it, relative to everyone else!"
Finally, to turn the hit with this completely new website into an awesome business home run, Saint Petersburg is working hard on introducing many new items that were unavailable to the North American customers before, most of which are in the Home and Bed and Bath departments, from great new cookware, to bedding, to interior decoration pieces.
The company's president, Natalia Orlova, summarizes it best, "We are conducting a wide-front offensive by making it a great deal easier for the customers to shop on our sites, while ensuring that we have absolutely the best selection of Russian products in North America. This demands very hard work, but we're confident, this will pay off in the very near future. Just wait and see!"
Concluding, it is difficult not to make parallels between Saint Petersburg, the company, and Saint Petersburg, the former capital of Russia, for which it is named, for both were built in an unfamiliar territory and were made possible solely due to selfless dedication and hard work of the people behind them. It took great dreamers that weren't afraid of taking up the most difficult challenges they could imagine and to see them through to build something great, no matter how impossible these challenges may have seemed. This is the reason why the most beautiful city in the world sprang up on the Neva River and this is the reason why Saint Petersburg Global Trade House became one of the most successful companies in its market. And just like the City, the company will only grow stronger as the years go by because both are made of some of the most talented, loyal, and hard-working people in the world!
About Saint Petersburg Global Trade House
Founded in 1994, Saint Petersburg Global Trade House takes its roots in Brooklyn, NY – the heart of NYC's Russian community. Saint Petersburg GTH takes great pride in the fact that it is the largest seller of Russian gifts, books, music, and movies outside Russia. The company offers products through its free colorful printed catalog, as well as operating brick-and-mortar stores in Brooklyn. The catalog is published quarterly in editions of 50,000 copies and can be requested by calling the toll-free number at 1-800-531-1037.
For additional information on the bamboo fiber bedding collection, visit