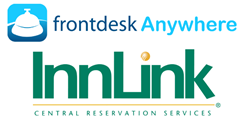 We look forward to helping hoteliers learn more about what's available to them, how the cloud can help their business and answer any questions they may have.
San Francisco, CA and Hendersonville, TN (PRWEB) October 08, 2014
Frontdesk Anywhere, provider of innovative hotel management software, and InnLink, provider of full-service hospitality technology solutions, will co-host a webinar on October 21, 2014 on the subject of "Should You Move to the Cloud? Advantages, Pros, and Cons of the Cloud for Hotel Operators." The webinar is free and anyone who manages, owns or operates hotels or any lodging property is encouraged to attend.
Cloud computing is a perfect fit for small to mid size hotels. It's a great way to get large chain class features, without the large price tag. The new generations of Cloud based Property Management Systems are powerful tools which bring incredible value to lodging providers.
Attending the webinar will give hotel operators the opportunity to learn more about cloud solutions. The session's ultimate goal is to arm hoteliers with the knowledge they need to make the best decision for incorporating cloud services into their operations.
The webinar will highlight what the Cloud is all about and specifically how it can be applied to a hotel's property management system (PMS) and online distribution.
Operational efficiency is crucial for hoteliers and Cloud based systems provide new ways to streamline processes and make life easier for hotels and their staff so they can concentrate on what's most important; the guest experience.
"We are excited to co-host this educational webinar with InnLink. Travel technology has been revolutionized by Cloud computing, yet the marketplace can often seem confusing and complicated. It's challenging for hoteliers to stay up to date with the latest innovations and know what's right for them. With that in mind, we look forward to helping hoteliers learn more about what's available to them, how the cloud can help their business and answer any questions they may have," said Thomas Lyle, Co-Founder and CEO, Frontdesk Anywhere.
The webinar is taking place on Tuesday 21st October, 1.30 PM CDT/ 11:30 AM PDT and is free to attend. Registration is available online at https://www4.gotomeeting.com/register/753780839.
About InnLink
Celebrating 22 years of service, InnLink is a technology leader in Central Reservation Services, delivering comprehensive reservations solutions with award-winning customer service to the hospitality and travel industry. InnLink delivers a comprehensive cloud-based solution for booking engine, GDS, and OTA reservations. It also maintains a 24x7 USA-based call center for voice reservations and customer service. InnLink services over 7,000 independent hotels and hotel companies worldwide.
For more information visit http://innlink.com/.
About Frontdesk Anywhere
Frontdesk Anywhere is a leading provider of innovative hotel management software for independent properties and management groups in the cloud. Currently, over 500,000 monthly room nights are managed with Frontdesk Anywhere - at hotels, motels, inns, B&B, campgrounds and other accommodation facilities. The company is focused on converging processes traditionally performed by separate systems into a robust, all-in-one productivity application. All modules are seamlessly integrated within the application and accessible from any computer or connected mobile device. The company is a privately held corporation based in San Francisco, California and operations center in Florida.
For more information about Frontdesk Anywhere and its hotel management software product, visit http://www.FrontdeskAnywhere.com or email sales(at)frontdeskanywhere(dot)com.