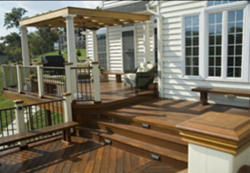 "Having replaced quite a few Maryland decks, I can tell you that lots of sun can harm not just people, but their outdoor structures as well"
Baltimore, MD (PRWEB) April 25, 2012
The summer is approaching fast bringing with it warm weather, humidity, and lots of sunshine. A deck or a patio is ideal for spending time outside and enjoying summer outdoor activities. Frontier Deck Builders, Inc. is accommodating its customers by offering several deck shading options such as pergolas, gazebos and covered pavilions.
"Now is a great time to think about outdoor improvements to get prepared for summer cookouts with friends and family," said Andy Merz, the owner of Frontier Deck Builders, Inc. He added that he and his crew of Maryland deck builders have helped many homeowners make their outdoor living spaces safer and more enjoyable.
According to dermatologists, sun exposure is necessary for Vitamin D production, but it should be balanced and regulated, as UV rays can cause skin cancer. Doctors recommend using sunscreens, avoiding the peak midday sun (10 a.m. – 3 p.m.), and limiting sunbathing to 10 to 15 minutes per session.
"It's not always possible to stay out of the sun when your deck or patio has no shading," commented Merz. He noted that a custom-built pergola is a popular shading choice among his customers. Pergolas, or framed open-roof structures, can be built to match the style of the deck, thus seamlessly blending into the landscape. The roof can then be fully or partially covered by vines, fabric, or any other material.
Strategically placing a gazebo or an open-wall pavilion on one's deck or patio can also provide desired shading. "For homeowners who are concerned about maintaining a consistent look throughout their property, pergolas, gazebos, and pavilions are a better choice over canopy awnings," pointed out Merz.
He explained that awnings are limiting both in design and functionality, as they attach to the side of the house, leaving little room to the choice of location and materials. Merz added that canopies might not always fit in with one's overall landscape, because certain features cannot be customized.
Another effective and creative way to protect any outdoor space from excessive sunlight is by using shade sails. These large sheets of thick fabric, tensioned across several anchors, can shade decks, patios, yards, and even pools. Natural or artificial support points are required for installation.
"Some of our Maryland patio and deck customers either don't have enough space or simply choose not to install any bulky shading constructions. In this case, we suggest using temporary portable solutions to block the dangerous rays," mentioned Merz.
Such solutions include table umbrellas, portable tents, canopies, large plants, or trees. Trees can be strategically planted around the yard to provide necessary shade. Many plants, as well as young palm trees and some evergreens, can also be grown in planters and positioned on the deck where shade is desired.
"Having replaced quite a few Maryland decks, I can tell you that lots of sun can harm not just people, but their outdoor structures as well," pointed out Merz. Bright sun fades and dries wood, making it more likely to retain water and rot. And just like people use sunscreen, wooden decks can be protected by applying a finish with UV inhibitors.
About Frontier Deck Builders, Inc.:
Frontier Deck Builders, Inc. is a full-service design and building contractor with more than 20 years of experience. Located in Maryland, Frontier Deck Builders, Inc. specializes in decks, patios, gazebos, screen porches, and other outdoor structures. For more information about the company, please visit http://www.frontierdecks.com.