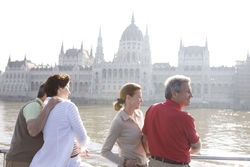 English-speaking local guides escort complimentary shore excursions to castles and wineries, and at many ports of call, a city tour is available
Houston, TX (Vocus) August 29, 2009
Responding to travelers' desire for a variety of vacation options, Frosch Travel (FROSCH), a premier travel management company, offers a new alternative: river cruising.
According to the January 2009 Cruise Lines International Association (CLIA) report, river cruising is quickly growing in popularity and expected to increase further throughout 2009.
Through its broad network of vendor partners, FROSCH offers river cruise tours with an exceptional variety of travel options. For example, Uniworld, a FROSCH preferred vendor partner, offers a premier level of comfort, quality, and service with its Boutique River Cruise Collection. Uniworld has been recognized by readers from both Condé Nast Traveler and Travel + Leisure as one of the world's top ten small cruise ship lines. Tours are available in Europe, Egypt, Russia, China, and the Ukraine.
According to Lara Leibman, Senior Vice President of FROSCH, "River cruising has been around for awhile, but it is quickly becoming a popular new vacation option. With over 500 departure cities and 40 itineraries along the world's most magnificent rivers, Uniworld's all-inclusive packages offer breathtaking river views and fascinating shore excursions for families seeking an unforgettable experience."
Uniworld has released its Great Ways to SAVE special programs, featuring pay-in-full discounts, two-for-one tours, and a single supplement waiver for solo cruisers on select 2009 and 2010 dates. These offers give travelers the opportunity to experience the wonders of river cruising for less.
"English-speaking local guides escort complimentary shore excursions to castles and wineries, and at many ports of call, a city tour is available," adds Leibman. "These excursions enhance the cruise experience, and many of our clients enjoy their tours so much that they can't wait to go again."
To learn more about Uniworld's Boutique River Cruise Collection, travelers can visit http://www.froschvacations.com. Call 1-866-961-6496 for more information about FROSCH and their extensive lineup of river cruising itineraries.
About FROSCH:
FROSCH is a thirty-seven-year-old travel company based in Houston, Texas. FROSCH is an industry leader, generating over $500 million in annual sales, through its corporate, leisure, incentive, meeting, and group divisions. FROSCH has been owned and managed by the Leibman family since 1977. Today, FROSCH has locations in twelve different states. For more information regarding FROSCH, contact Lara Leibman at lara.leibman (at) frosch (dot) com.
###