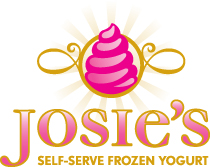 What Goodness Tastes Like...
Westerville, OH (PRWEB) July 21, 2011
Josie's Frozen Yogurt is announcing that there is a new health conscious yogurt store that has opened at 121 Westerville Plaza, Westerville, OH 43081, 614.392.4004. This beautiful new store will service the Westerville area and quench the thirst of local dessert connoisseurs.
The Las Vegas-based chain is reinventing the self-serve frozen yogurt concept with great tasting frozen yogurt that uses wholesome ingredients with unique nutritional composition to create healthful desserts that are lower in calories, sodium and carbohydrates than comparable frozen yogurt products.
A bright, colorful interior welcomes guests as they arrive in the family-friendly environment in each and every Josie's franchise. There are currently 7 Josie's open in the United States, with 142 planned to open over the next five years. The Las Vegas based franchise is taking a novel approach to the yogurt game by offering a far superior and healthful product where the competitors are just filling their cups with sugar loaded products.
Josie's offers families a smart alternative to ice cream and other frozen-yogurt outlets because Josie's great tasting flavors have specific qualities that promote healthier lifestyles. Josie's self-serve frozen yogurt is made with only pure crystalline fructose, which differs from high-fructose corn syrup because it is sweeter and therefore less is needed to achieve the same great taste. Consequently, a four-ounce serving of Josie's Frozen Yogurt is a third lower in calories and lower in sodium and carbohydrates in comparison to its competitors.
In addition, Josie's dark chocolate includes the compound L-Caratine that helps burn fat and helps reduce oxidative stress. Josie's plain tart flavor is high in antioxidants thanks to Indian Gooseberry and other flavors contain Vitamin B12 and other nutraceuticals formulated to boost energy. With Stevia flavors also available for diabetic and hypoglycemic fans, Josie's offers a multitude of options for a healthier dessert.
Josie's offers an abundance of flavors, from traditional favorites such as vanilla bean and chocolate, to unique items such as peanut butter, blueberry cheesecake and cappuccino. Children and adults alike can personalize each cup of frozen yogurt by topping it off with healthy choices of fresh fruit and nuts, sprinkles, brownie bites, chocolate chips and more. At an affordable price -per-ounce, Josie's offers a healthful dessert alternative.
This industry leading franchise has stores planned in Texas, Florida, Arizona, Connecticut, Ohio, Indiana, Oklahoma, Missouri and Hawaii in the near future. Additional locations will be announced in the coming weeks. To learn more about Josie's Frozen Yogurt visit http://www.josiesfrozenyogurt.com.
###