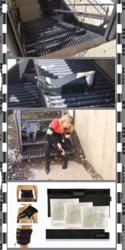 I thought to myself, there has to be a way to combine the conformability of peas with added benefits of existing hot and cold therapy packs. - MaryCarol Dolivier
Chicago, IL (PRWEB) January 22, 2013
After a painful fall down a long metal staircase, MaryCarol Dolivier needed a cold pack to relieve the pain and to help keep the swelling down. She went to the freezer and was confronted with the usual suspects: a gel pack, ice, or a bag of frozen vegetables. She followed the advice of many medical professionals and chose frozen peas because of their unique ability to conform to her injuries. After throwing away yet another mushy bag of peas, the light-bulb came on. "I thought to myself, there has to be a way to combine the conformability of peas with added benefits of existing hot and cold therapy packs," said Dolivier.
What differentiates entrepreneurs like MaryCarol from many inventors is that she took action on that thought and created something different. Drawing on her belief that wonderful things happen when you challenge your perspective, MaryCarol left her well paying job as Vice President of Professional Services and started mapping a new course in the unfamiliar waters of developing and bringing to market a patent-pending consumer product.
Two years later, the hot and cold therapy market has been put on notice. As most people know, there are two uses for a bag of frozen peas – a healthy vegetable for the dinner table or a cold compress for an injury. Not your garden variety pea, FrozenPeaz® utilizes VirtualPeaz™ to capture the flexibility of Mother Nature's cold pack without sacrificing the reusability of a gel pack. In keeping with the non-toxic nature of garden peas, FrozenPeaz are also made from a 100% natural, plant-based solution. After evaluating FrozenPeaz on athletes and patients, Dr. Terry Nicola, Director of Sports Medicine Rehabilitation at the University of Illinois at Chicago said, "My patients find FrozenPeaz® to deliver the cold where it counts without sacrificing comfort. They experience a significant reduction in pain."
"We knew we had a fantastic alternative to traditional gel packs. FrozenPeaz® delivers long lasting cold therapy with superior flexibility," commented Arthur Blackwood, co-founder of FrozenPeaz®, "but we knew we could do more. We committed ourselves to developing a solution that provided hot therapy relief as effectively as it delivered cold." Why was it important to create a pack that delivered both? Hot therapy reduces muscle stiffness and painful joints. After the first 48 hours, many doctors recommend contrast therapy, alternating hot and cold compresses, to aid in the recovery cycle. "Don't let the name fool you," Blackwood finished. "FrozenPeaz® delivers high-performance hot therapy as well." Unlike real peas or glycerin-based beads, VirtualPeaz™ are durable and withstand repeat usage and microwave heating.
But the duo didn't stop with reinventing the hot and cold therapy pack market. Most medical professionals agree that adding compression to hot or cold therapy greatly increases the therapeutic benefits. "We received significant feedback during consumer trials that people don't want to have to lie on the couch all day with a gel pack on," said Dolivier. While a little rest is important to speeding recovery and avoiding re-injury, the PeazPod™ sports wrap solves both issues, providing customizable compression and increased mobility.
FrozenPeaz® doesn't look or behave like your typical gel pack because FrozenPeaz® is anything but typical. Until now, FrozenPeaz® products were only available through select physical therapists. Now FrozenPeaz Hot & Cold Therapy products are available online and everyone from athletes to arthritis sufferers can use FrozenPeaz to Relieve Pain, Reduce Swelling, and Recover Faster.™
FOR MORE INFORMATION
To purchase FrozenPeaz Hot and Cold Therapy Wraps or for more information, visit FrozenPeaz.com or Amazon.com/shops/FrozenPeaz.
ABOUT FrozenPeaz Hot & Cold Therapy
FrozenPeaz® patent pending products deliver flexible hot and cold therapy to relieve pain and assist in recovery from minor injuries or post-surgery rehabilitation. PeazPod™ therapy wraps maintain the healing temperature while maximizing comfort. The straps provide customizable compression while holding the wrap in place, enabling moderate physical activity and movement. PeazPod wraps are available in 6 different shapes to conform to various parts of the body. Just like frozen vegetables, PeazPak™ therapy packs are non-toxic. The plant-based Clear Ice™ Solution is a 100% natural alternative to petroleum and glycerin based gels. Relieve pain. Reduce swelling. Recover faster. FrozenPeaz®.
ABOUT Etavonni™ Products
FrozenPeaz® was developed by Etavonni™ Products. Etavonni, innovate spelled backwards, believes that wonderful things happen when you challenge your perspective. Leading by example. FrozenPeaz® is the product of an unfortunate trip down a long metal staircase. MaryCarol, a co-founder of Etavonni, spent weeks on the couch with more than one bag of frozen peas. She, like so many other entrepreneurs thought, "There has to be a better way". Now there is. MaryCarol Dolivier and Arthur Blackwood founded Etavonni Products in 2011. Etavonni™ Products is a resource for entrepreneurs and imagineurs that believe they can build it better but need a little help.