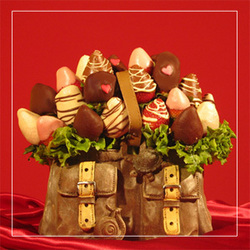 Asian Excellence Awards Gifting Lounge
Beverly Hills, California (PRWEB) February 11, 2008
Fruits to Remember of Beverly Hills announced today that the luxury fruit bouquets and chocolate fruit arrangements of the design house are now available with chocolates with six different flavors. Offered for the first time in the luxury gift market, clients can now choose from six ambrosial flavors of semi-sweet, white, milk, strawberry, caramel and cappuccino and top them off with ground hazelnut, sliced almonds or grated coconut toppings. Valrhona and Callebaut chocolates offered by Fruits to Remember, singled out among scores of chocolate brands tried during the selection process, are two of the best known French and Belgian chocolates known to the most demanding chocolate lovers in the world.
During the years of its presence in Beverly Hills, Fruits to Remember has served clients from multifarious sectors and industries including entertainment, financial, banking, legal, health care, medical and education in Beverly Hills, Santa Monica, Century City and down town Los Angeles offering luxury hand sculpted fresh fruit bouquets and chocolate fruit arrangements, customized to the clientele's needs. In particular, "A" list celebrities who received fruit and chocolate arrangements on their achievements from their peers and fans or had them delivered to their private jets were among the strong patrons of Fruits to Remember. This led to an unprecedented volume of orders from companies in Fashion, Music and Film industries during the 2008 New Year holidays.
Fruits to Remember has also been a benefactor in many fund raiser and charity events held by non-profit organizations like "Kenny G Concert help by the Eye Defect Foundation of Cedars Sainai Hospital", Beverly Hills Police Department Fund Raiser", "Lisa Gibbon's Place for Alzheimer Disease", "Alfred Mann Foundation events", "Maternal Fetal Care International events", The Maple Counseling Center Fundraiser", "People Assisting the Homeless" and many others.
The fruits and chocolate bouquets have been featured in scores of events like "Asian Excellence Awards Gifting Lounge", "BET Awards Gifting Lounge", "Century City Citizen of the Year Ceremony", "Beverly Hills Golf Tournament" and "Producers Guild of America Annual Meeting". Fruits to Remember's presentation at "Wedding in the Grand Tradition" where centerpieces were designed for wedding receptions was reported on "Good Day LA" show broadcasted by FOX 11. Also, NBC chose Fruits to Remember to create a fruit display for "LIFE Series Premier" in which L I F E logo was created out of fruits. The advertising campaign includes ads in "LA Confidential", "Angeleno", "Genlux", "Haute Living", "Space, "Venice", "Beverly Hills 90210", "Bel-Air View", "Brentwood News", "Santa Monica Sun", "Palisades 90292", "Century City News" and "Malibu Beach" magazines and online services like Google, Yahoo, and Facebook.
Started in 2004 with the idea of offering a healthy and yet ambrosially tasted alternative to the high end gift industry market, the company has delivered thousands of fruit bouquets and fruit arrangements all over greater Los Angeles area and Orange County served as personal and corporate gifts, centerpieces for events as well as platters for casual meetings and get together occasions.
###