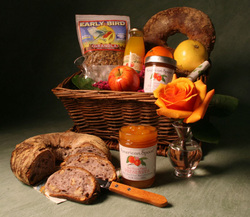 Owner Jehv Gold says "We are always thinking about designing new gifts that will give our customers more options. This time we've come up with a gourmet breakfast basket that fits that special time when you want to pamper your partner or loved one."
New York, NY (PRWEB) September 14, 2010
Manhattan Fruitier, whose elegant fresh fruit baskets and gourmet gift baskets have made it the choice of US presidents, celebrities and discerning clientele for over twenty years, has recently introduced a new gift, The Early Bird Breakfast Basket, that is a perfect gift for anniversaries, birthdays and thank yous.
The Early Bird Breakfast Basket is an extension of our gourmet gift basket line. As with all our gourmet gift baskets, the individual food items are carefully chosen to represent the best in their class. As with all our fruit and gourmet gift baskets, this gift is hand packed with great care in a willow hamper and then tied with a ribbon for an elegant presentation.
The Early Bird Breakfast Basket features handmade granola by the Brooklyn based Early Bird Granola, a walnut ring from Balthazar Bakery, peach preserves from American Spoon, Spanish clementine juice and, of course, fresh fruit. The final touch is a single rose and a bud vase. The gift basket is designed around the idea of breakfast in bed, or at least an easy breakfast without shopping or cooking. The gift communicates health, abundance, and comfort.
The Early Bird costs $80 and may be shipped nationwide.
Manhattan Fruitier was founded in 1987 by Jehv Gold, with the aim of renewing a tradition of gift giving from the last days of the 19th century, when small, specialized businesses provided a level of service and attention to detail that has become rare in our times. Manhattan Fruitier uses natural materials that would have been used for gift baskets in the finest specialty stores of a hundred years ago. "The fruit baskets are inspired by 17th century Dutch still life paintings," says Drew Pleak, Design Director. "The first impression is visual, and a beautiful presentation enhances the enjoyment of the contents."
Manhattan Fruitier takes pride in an exceptional record for accurate, on-time delivery. Gifts are shipped nationwide or via hand delivery in New York City. "We place great emphasis on customer service," says Lauren Westbrook, Director of Marketing. "We want to make sure our customers get exactly what they want."
Visit http://www.manhattanfruitier.com to see Manhattan Fruitier's complete selection of fruit baskets and gourmet gift baskets.
###