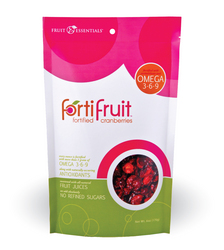 Dried cranberries and unsalted nuts are an easy and health-beneficial alternative to other processed snack foods
New Richmond, WI (Vocus) April 29, 2009
It's no secret. Kids and adults alike consume too many unhealthy snacks. Fruit Essentials, a Wisconsin food technology company, is introducing Forti-Fruit™ fortified cranberries and Omega-Mix™ trail mix as a healthier and more nutritious option to satisfy our snack cravings.
"Dried cranberries and unsalted nuts are an easy and health-beneficial alternative to other processed snack foods," according to Ralph Pullmann, president and CEO of Fruit Essentials. "Busy families don't have a lot of time to search food labels for hidden sugars and fats, so Fruit Essentials created Forti-Fruit™ and Omega-Mix™ to make it easier for active kids and adults to fit better nutrition into their diet and busy lifestyle."
The United States Department of Agriculture reports that in 2007, the typical American consumed 40.1 pounds of high fructose corn syrup and 44.2 pounds of sugar. This is mostly because our diets are full of quick-grab, processed foods and snacks that have little-to-no nutritional value.
It's been long known that cranberries have major benefits for women's urinary tract. A study published in a 2007 issue of Phytomedicine: International Journal of Phytotherapy and Phytopharmacology suggests that eating a 1/3 cup serving of dried cranberries as part of a regular nutrition plan can prevent the uncomfortable, and potentially serious, symptoms of a urinary tract infection.
Yet Forti-Fruit™ goes far beyond its "dried cranberries" description. It's more nutritious because the empty space where naturally occurring water has dried up is fortified with nutrients from the cranberry seed. Every ounce is fortified with antioxidants and over 1 gram of Omega 3-6-9 fatty acids. It's healthier because Forti-Fruit™ is sweetened with natural fruit juices, meaning no added refined sugars.
Using these fortified cranberries, Fruit Essentials Omega-Mix™ takes the classic trail mix to a whole new level, by packing 8 grams of a balanced ratio of Omega 3-6-9 essential fatty acids into every ounce. They start with only nuts that have a sufficient amount of antioxidants and healthy fats. These raw nuts are minimally processed and have no salt. The mix does not use the candy found in many trail mixes, instead, Forti-Fruit™ juice-sweetened cranberries are used to complete the mix's flavor profile.
"The re-sealable zipper on the convenient 6-ounce package is perfect for storing Forti-Fruit™ and Omega-Mix™ in kids' backpacks, in the car, on an airplane or in the cupboard," Pullmann added.
Fruit Essentials has designed a line of products that harness the health benefits of all parts of the cranberry and amplify it with a balanced ratio of essential fatty acids. Other products include the N'Mia™ Cranberry & Olive Oil Blend, Cranberry Women's Formula Supplement and Cranberry Seed Oil, which comes in both liquid and softgel forms. For animal health, Fruit Essentials also offers liver-flavored Cranberry Fortified Dog Treats that have added immune, circulatory, muscle and digestive system support.
All Fruit Essentials products are available to order online at http://www.fruitessentials.com
About Fruit Essentials
Fruit Essentials develops products using fruit seed extracts to tastefully enrich foods, supplements and pet products for the active, health-conscious consumer. More information (as well as where to buy locally) may be obtained online at http://www.fruitessentials.com or by calling (877) EAT- FRUIT.
Contact:
Jessica Weins
jessica(at)groupleaf.com
715-379-3317
###